Skydecks are the future of window seats.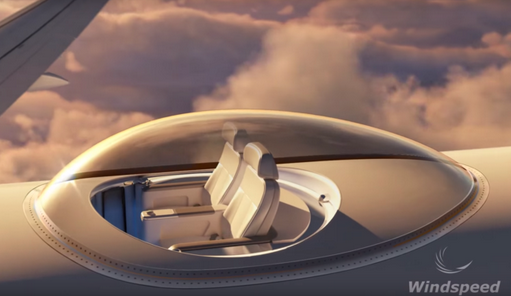 I don't know about you, but I am a window seat type of guy. Not only do I love the ability to look out the window and reflect on my poor choices, but I also like to lean my head against the window so I don't have to be that guy who inadvertently falls asleep on a stranger's shoulder and wakes up wondering exactly how deep the relationship is.
Windspeed Aircraft's Skydeck was made for people like me. The skydeck is a transparent rooftop pod that grants panoramic views of the skies, available for two lucky, rich people. (There's a lot of open, heated philosophical debate about the difference between 'lucky' and 'rich' and in this instance I see them as interchangeable words, really.) The skydecks can be carved into the top or bottom of any aircraft, although like everything in life, I much prefer to be the top. The futuristic skydeck pods are shaped like a teardrop and positioned near the back of the plane to minimize wind resistance.
READ MORE: 15 Breathtaking Pics Taken from Airplane Windows
Aircraft skydecks have been in development for over a year, and although they aren't sure when it will become a reality, I can assure you there are plenty of people who will take advantage of it.
Here's toasting with a ginger ale that Delta gets skydecks first, because I'm really pulling for my skymiles to be worth something more than discounted airport food.
[
via
]