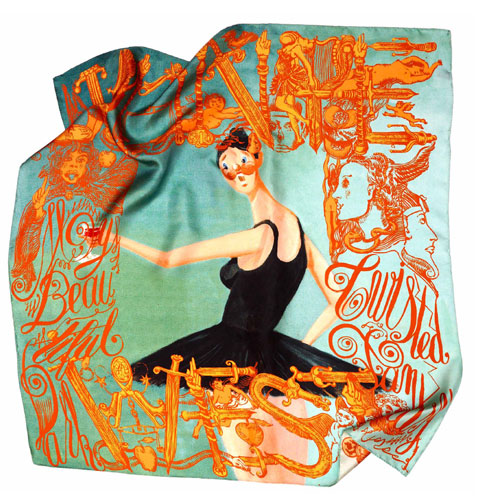 I'm sure you've all caught wind that Kanye West has been testing the fashion waters, but – to me, at least – exactly what Kanye is doing in regards to fashion is sort of arcane. If you're like me and are wondering what fashion authority the rapper has, allow me to explain to the best of my knowledge. After doing my research, I found that not only did Yeezy debut his own fall line to "bleh" reviews, and not only is he a devout Tory Burch fan, but he has also ventured into a handful of design partnerships.
I begin with West's line of scarves for MM Paris, an art and design partnership by Mathias Augustyniak and Michael Amzalag. The scarves are based on the cover art of Kanye's latest album, My Beautiful Dark Twisted Fantasy, which features paintings by American contemporary artist George Condo. The scarves just recently went on sale at MMParis.com and Colette Paris and retail for €250.
Another one of West's dips into the fashion pool is his wildly priced beaded Giuseppe Zanotti sandal. If you're into dishing out around $5,800 for calf leather and embroidered pearls, these are the shoes for you. Hey Kanye, I think you owe Taylor Swift a pair of these.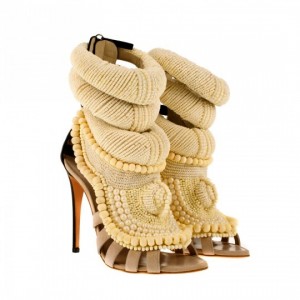 In addition to his high-end ladies' line, he recently debuted his second line of Nike sneakers – The Air Yeezy II. Bye, bye Air Jordans; it's the Air Yeezys we want now. The kicks feature a slimmed-down silhouette, snake-like leather, and hieroglyphic detailing. Yes, that's right, look closely and you will find Horus the sky/war/hunting god on the tongue of the Air Yeezy II. Ever so scholarly of you, Mr. West.