Summer 'tis the season to lay back, relax, and sip something cold and sweet. In fact, I believe it was Galileo who once said, "gurrrrl, hand me some PJ's and deep conditioner, this bitch is DONE." Or something like that, so, I've put together my little list of must-have essentials for a proper relaxation day.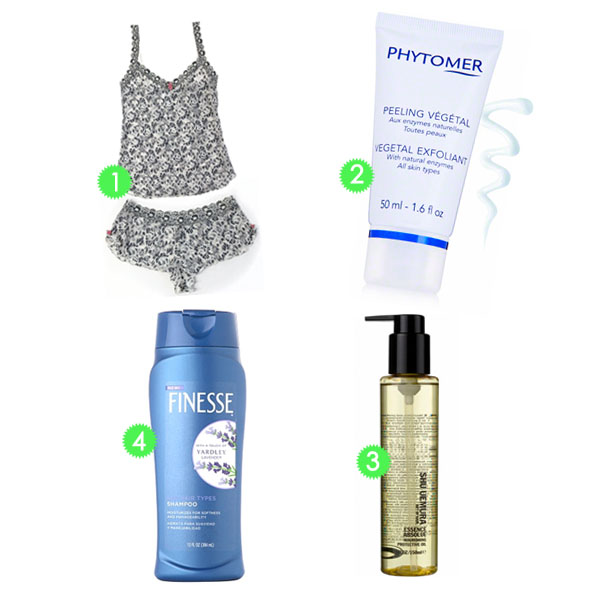 1. Lounge in this sleep set. After you're all bathed and good, you're going to need to slip into something more comfortable. It's literally a requirement, otherwise your relaxation won't be thorough (or at all glam). Personally, one can never get enough of this sleep set by Hanky Panky. It doubles as a comfortable-enough-to-lounge-in-all-day outfit AND as a seduce-the-man ensemble. Win, win, win.
2. Fix your skin, girl. If you're a beauty hoarder like me, you're already obsessed with Phytomer for their amazing formulations, results, and quality. Also, you just sort of feel more official when your vanity is stocked with their stuff. But their Vegetal Exfoliant goes on smoothly like a velvety toothpaste, gently encourages new cell turnover in skin, and leaves you looking refreshed as a 12 year old at summer camp. Slather a little on, watch an old episode of How I Met Your Mother, rinse and voila!
3. Condition your hair after you condition it. Whether your hair is dry or already damp from a post-shower decision to call it a night of relaxation, adding a high quality, light oil will add more life and bounce to your otherwise fried summer locks. Shu Uemura's Essence Absolue is light, scented like a sexy dream, and safe for color-treated hair. In fact, using a little every day will change your hair from "eh" to "haiiiiiii pretty lady" in just a few weeks.
4. In the event you need to wash your hair, but didn't already… Try Finesse's new shampoo and conditioner line with Yardley lavender right in the formula. Lavender is scientifically proven to relax four key areas of the brain, promoting the production and release of hormones that trigger happiness, serenity, and a readiness to sleep. This one is cheap, easy, and found at just about every drugstore ever, so you can't go wrong. Use it before relaxing or if you're a shampoo-before-bed kind of gal (I usually am). Also, I found a coupon here to make it even cheaper than you might've imagined. It's like the hair Gods are forcing this fabulousness on us.