Spanish Tapas are an easy way to create new recipes while filling you up. Each recipe requires minimal preparation and we all know that food is easier on the go these days. You can pack up these tapas for a picnic, a football game, lunch break, or even a nice dinner. The many recipes that go with tapas are quick and easy, anyone can give it a try!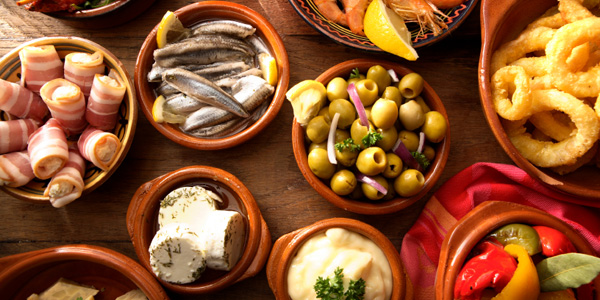 Chorizo and Garlic Mushrooms
Surprisingly light and one of the tastiest tapas recipes, this mixture served on toasted baguette slices can be made a day ahead and served warm or at room temperature.
Servings: about 8 appetizer servings
Prep and cook time: about 20 minutes
1 tablespoon olive oil
1 small onion diced
3 cloves garlic chopped
8 oz. chorizo sausage, removed from casing and diced
8 oz. mushrooms sliced
3 tablespoons dry sherry
1/4 teaspoon hot chili flakes
1 tablespoon chopped parsley
Salt and pepper
In medium skillet, heat oil on medium-high heat and stir in onions and garlic for 2 minutes.
Add chorizo and cook for about 3 minutes, or until it's cooked through.
Add mushrooms, sherry, chili flakes, and salt and pepper.
Cover and simmer over medium heat for about 7 minutes or until most of the liquid is evaporated and the mushrooms are browned. Stir occasionally.
Stir in parsley and add salt and pepper to taste.
Chickpea and Pimento Salad
This simple and fresh salad can be made up to six hours ahead, covered and chilled. Toss with dressing shortly before serving.
Servings: about 6 – 8 appetizer servings
Prep and cook time: 10 minutes
2 cans (15 oz. each) unsalted chickpeas, drained and rinsed
1 jar Spanish pimento peppers diced
2 garlic cloves minced
1/4 cup shallots minced
2/3 cup extra-virgin olive oil
6 tablespoons sherry or red wine vinegar
1 teaspoon coarse salt
Freshly ground pepper
3 tablespoons chopped parsley
Mix chickpeas, pimento peppers, garlic and shallots in a large bowl.
Combine olive oil, vinegar, and salt in medium bowl or jar.
Before serving, whisk or shake oil mixture and pour over chickpea mixture. Stir and add pepper and salt to taste. Garnish with parsley.
Tortilla de Patatas
(Potato omelet with garlic and cheese)
Easy to transport and can be made a day ahead served at room temperature or warm. Can be adapted by adding mushrooms, tomatoes or chorizo sausage.
Servings: about 6 appetizer servings
Prep and cook time: 35 minutes
1/2 cup olive oil
1 medium baking potato, peeled, sliced and lightly sprinkled with salt and pepper
1 medium yellow onion chopped
3 cloves garlic minced
4 eggs
1 cup manchego cheese
2 tablespoons chopped fresh parsley, plus extra to garnish (optional)
Salt & pepper
Heat olive oil in a 9-inch skillet on medium heat and add the potato slices carefully. Cook for about 5 minutes, turning slices frequently to prevent browning. Try to keep slices separated so they do not stick together.
Add onions and garlic to the potatoes and cook for about 3 minutes until the onions have softened. Drain into a colander, leaving the remaining oil in the pan (about 3 tablespoons)
In a large bowl, whisk the eggs and add the cheese, parsley, and salt and pepper. Add the potatoes to the egg mixture.
Heat the oil back on medium and pour egg-coated potatoes to the hot skillet, spreading the potatoes evenly.
Lower the heat to medium low and continue to cook the omelet until half-set about 4-5 minutes. Shake the pan frequently to prevent sticking to the skillet and allow any uncooked egg to run underneath.
Using a wide spatula, confidently flip the omelet in the skillet or invert onto a plate and slide carefully back into skillet. Cook until set for about 3-4 minutes, using a fork to test if it comes out clean.
Cut into wedges and garnish with parsley.