You know the saying, "The early bird gets the worm."? I was late. Who paid the ultimate price? My face.
My skin has been suffering a meltdown of epic proportions and, being uninsured, there is no way I can pay out of pocket to see a dermatologist. For a few years now, I've been getting– okay, I have to put a disclaimer here: this is going to be gross, but possibly something you've experienced. I've been getting these satanic, standalone pimples that do not bend under the pressure of a good facial cleanse. They are resilient, like cockroaches. I brought the problem up with an ex-dermo of mine, who rudely informed me that I just "had acne." Sorry lady, I know the difference between a pimple and an army of whiteheads on crack. These things have a mind of their own. In the past, they've been removed by friends with cosmetology licenses, who have had to use their bare hands and in some cases, needles, to remove the hardened build up from my skin.
When the mutant acne started popping up with reinforcements in tow, I asked Ashley to pool together some intense masks that could possibly remedy the problem. She did not disappoint. Here are the masks that brought my skin back to life; and subsequently prevented me from having to pony up a ridiculous copay to solve a natural problem.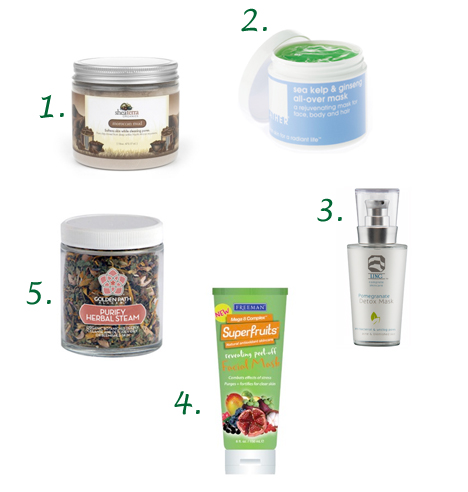 1. Shea Terra Organics Moroccan Mud: This stuff is Africa's best keep secret– and more valuable than any blood diamond. It looks like dirt, and application can get messy, but it's totally worth it. For $18, you're buying a jar of pure ghassol mineral clay (though, like I said, it comes dry and it's your job to turn it into clay). You can do this by adding water, honey, milk, rosewater, or any other liquid you'd like to experiment with. I didn't get fancy with it because, frankly, my skin has been through enough– just mixed the "dirt" in my palm with water. The first night, I slept with the mask on (I know, you're not supposed to do that, but desperate times…). In the morning, my skin felt like a slab of marble– in a good way. It was like I had used some sort of super affordable Botox. Even better? Those hard, obnoxious deposits in my skin had dried up and turned into normal, manageable acne. They had also shrunken and lightened in color.
I wouldn't recommend this one for people with dry skin, as it does tend to make your skin feel (but not look) like the Sahara. For my fellow oily-faced sisters out there, try using Shea Terra's Lavender of the Khoisan Shea Body Butter as a follow-up face mask. It's meant to moisturize your body, but I used it as a mask after using the Moroccan Mud and it's a great way to feel refreshed and clean without worrying about re-clogging your pores.
BONUS: Use Moroccan Mud all over your body if you suffer from the dreaded bacne; or even sunspots. This mask has the added benefit of lightening up scars from acne and scabs.
2. Lather Sea Kelp & Ginseng All Over Mask: For $18, try this bright green mask on for size when you need a pick-me-up after spending your days in the sun. This detox mask is perfect for the summer season, as it contains soothing aloe vera; the patron saint of sunburns. It also contains St. John's Wort, which soothes inflamed and irritated skin. This mask is full of moisture, so it's more suitable for a dry canvas.
BONUS: If your hair is as dry as your skin (blondies, I'm lookin' at you); this mask doubles as an overnight deep conditioning treatment. Apply after conditioning your locks, then rinse it out the next day for added moisture (you'll need it– your natural moisture tends to be lost to the waves during the summer months).
3. LING Complete Skincare's Pomegranate Detox Mask: LING products are used by the pros to conduct facials worth shelling out the big bucks for (this product in particular goes for $65 a pop). This is their newest mask; chock full of natural pomegranate and pumpkin enzymes that release dead skins from their indentured servitude on your face. The mask primarily prevents bacterial build up, so it's best suited to be used in between facials. If you're a New Yorker with money to spare, LING has three spa locations you can visit to get some assistance from skincare gurus.
BONUS: Visit a LING spa during the month of April for one of their most popular facials for the low price of $50. If you're not a New Yorker, LING donates proceeds from product sales and spa services to Habitat for Humanity, charity: water, and CitiHabitats.
4. Freeman's Superfruits Revealing Peel Off Mask: If looking in your wallet is more painful than looking in the mirror; Freeman masks are right up your alley. Broke college students and 20-somethings alike are probably already familiar with Freeman Beauty (their products have been a staple in my Target shopping cart for years). At $3.99 though, the question is not whether you can afford something pricier– the question is whether you can afford to not try it. This mask in particular is a great choice for someone whose face hasn't staged a full-on rebellion just yet. Plus, don't you miss masks that actually peel off?
BONUS: Do you need one? The damn mask is $3.99. That's the bonus. Okay, and you can find them in any drug store nationwide. Better?
5. Golden Path Alchemy's Purify Herbal Steam: This isn't your average facial mask, boo boo. In fact, I'm reluctant to call it a mask at all. This $20 jar of what looks like sticks and stones (don't worry, they won't hurt you) is actually lavender, licorice, witch hazel, and other natural herbs. Instead of applying a mask to your face, you'll put 2-3 tablespoons of the herbs in a non-metallic bowl. Add 4-5 cups of boiling water to the bowl, then drape a towel over your head to create a steam-catching "tent." Hover over the bowl, allowing the herbs to do God's work. As the steam cools, you can get closer to the bowl. Close your eyes, and breathe in the steam for 5-15 minutes. This is a great treatment for anyone who lives in congested city areas or people with oily skin.
BONUS: Strain the remaining water when you're done and drink it, it's tea! If that grosses you out, you can save the water and use it as an astringent to hold you over until your next steaming.
Disclosure: All products were provided for review. No monetary compensation was received for this review. All opinions belong to the author.