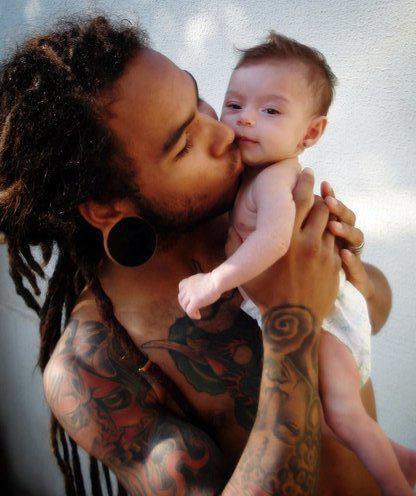 Fathers Day, for those of you who have hearts, and celebrate such things is coming up in mid-June. I have always had a problem shopping from my father, because other than the fact that he loves music, and quite possibly meth I don't know that much about him. I don't care who you are though, nobody wants to receive tools and flannel shirts every year for their special day. To remedy that issue, I have put together my top 5 Father's Day gifts for hip dads.
Dirt for Men skincare. Your guy may not always want to admit it but he cares about his appearance. I know you care about it too, since you have to be seen with the shmuck. Dirt for Men is a skincare line free of parabens, mineral oils, and artificial fragrances. Basically all you need to know is that it'll keep your man's skin healthy, well-balanced, and super sexy without the use of chemicals. Its perfect for a trendy dad, since its also brand new to the US.
BLACKSOCKS Subscription. Have you ever looked at your mans feet, only to find that not only are his socks mis-matched, but they are holier than the Pope's panties? Keeping your socks matched is a damn-near impossible feat for a man. BLACKSOCKS is an ingenious company that lets you purchase a sock subscription for the special guy in your life. Basically, you can choose what kind of socks he likes, from cotton to cashmere, and stipulate when fresh pairs arrive. Trust me, this is much easier than dealing with a sock catastrophe the day of a big interview, funeral, swanky event, or monthly sex-day.
Lyric Culture Tees. Featuring beloved song lyrics from Bob Marley with fun, graphic prints, Lyric Culture t-shirts are not only a great gift but they benefit  Little Kids Rock, a not-for-profit that aims to revitalize music education in public schools. These t-shirts will remind the father in your life of the glory days of Camaros, garage bands, and t-shirts free of spittle.
Recon Sneakers. Hip and trendy dads everywhere, from Jay-Z to David Beckham have embraced Global Hi Recon sneakers. The sneakers were created as a collaboration with grafitti artists such as Stash, Wayne, and Futura. They are perfect for a dad that wants to look stylish, and a mom that wants to fantasize that her husband has something in common with David Beckham.
Another bad-ass baby. Truly hip dads embrace the awesomeness of fatherhood. What better gift could you give your baby daddy this year than another baby? I know its a matter of chance, but maybe you would end up with a really bad-ass baby that robs liquor stores and builds dangerous skateboard ramps, all the while maintaining a steady 3.5 GPA.
[flagallery album=2 name=Fathers Day] [ img
via
]