When I think of vacation, my mind always zips back to the same place- regardless of season. Beach houses. Whether it's the Hamptons, Outer Banks, La Jolla, or Miami- it's always the same formula: get the house with glass doors that face the water, bring the drinks, pack your beach hair products, the rest will follow. And it's so true. This year I've floated around a bit between the Hamptons and Connecticut, but my packing list has been the same throughout.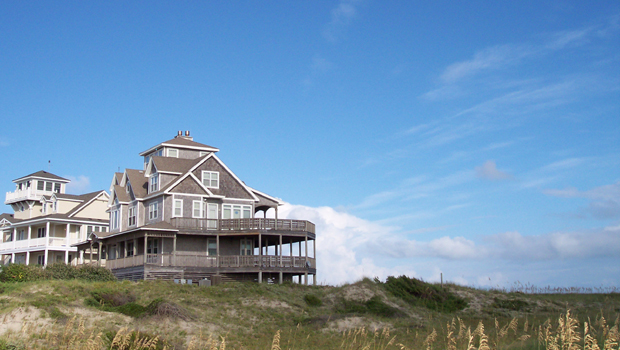 1. Perfect Beachy Cocktail Ingredients. Since 2 things lure friends to trek to your place (water and alcohol), I try to make a signature summer drink. This year I'm all about my Frozen Lemon Mint Cocktail. It's light, refreshing, and not so bad for you thanks to low sugar content, Smirnoff Sorbet Light (it's shockingly low on calories), and the antioxidants in fresh lemons and mint.

For my Frozen Lemon Mint Cocktail recipe (serves 4), you'll need:
2 whole fresh lemons
2 large handfuls of fresh mint (there's a variety of mint called "chocolate mint" grown in the North East, if you can find that, even better… it has an extra sweet aroma)
1/2 can of ginger ale
4 ounces Smirnoff Sorbet Light Lemon (it's low cal, so when you're not making this recipe, it's perfect over ice with club soda for a guilt-free treat)
Lots of ice
In a blender, combine juice of both lemons, all the fresh mint (you can use the stems, don't worry!), ginger ale, Smirnoff Sorbet Light Lemon, and cover it with ice. Blend till it's smooth, frothy, and perfect to drink through a straw. Garnish with a little leftover lemon peel or pre-cut slices before juicing. Makes 4 servings.
2. Beauty, beauty, beauty. As any of my beauty besties will tell you, my beach routine is always about wavy hair, bright nails, and safe skin. I'm loving POND'S new BB cream (hooray for SPF!), Kerastase's Couture Styling line, and Hard Candy's Itzy Glitzy Nail Collection. They're all easy to pack, wear, use, and last way longer than you'd ever expect.
This post was sponsored, but the recipe, thoughts, and opinions are entirely my own and I really do love all these things.