Have you got a classy lady or gent on your hands? Feel like you need to really step it up in the gift department this year?  Look no further – We've got you covered.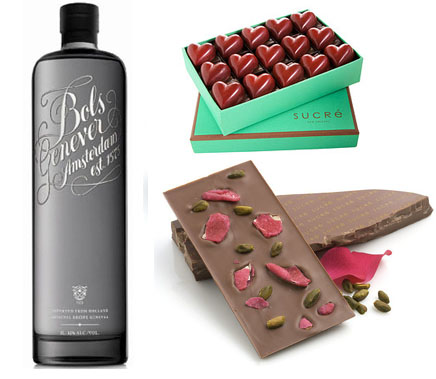 For The Dapper Gent:
A finely crafted bottle of Lucas Bols – Bols Genever should do the trick. World-renowned author & mixologist David Wondrich frequently sites this "most seductive potation known to natural science", saying that "every serious bartender should have it behind their bar". Originating in 1575, Genever was one of the 4 accepted cocktail bases in the 19th Centuty, along with rum, whisky & brandy, with its importation more than six times higher than that of gin, in the USA.While it contains gin's headiest ingredient, the juniper berry, the majority of the formulation can be attributed to  maltwine, and pure and crystal clear grain alcohol. It's a smooth taste, without the sharp gin-like juniper presence… smooth, malty & fresh. Never heard of it? Get familiar, this stuff is in a class all its own… just like your man.
Take charge and make a set Valentine's cocktail to make him swoon ( and tipsy – we're talkin' 42% ).
The Holland House (Glass: small pre-chilled martini glass):
1 3/4 shots of Bols Genever
3/4 shot of Noilly Prat dry vermouth
1/2 shot of freshly squeezed lemon juice
1/4 shot of maraschino liqueur
Shake the ingredients with large, hard, cold ice cubes and doublestrain into the glass.  Garnish: Spray and rim a zest of lemon.
For the Classy Lady:
Chocolates can never steer you wrong… but here's hoping a little twist on the traditional will win you extra points. Sucre New Orleans ( Bryce can't get enough) brings the box of chocolates to a whole new level with their delectable creations. We're loving the beautifully wrapped box, containing Sucre's signature red raspberry hearts.For The Love Of Chocolates
But, the NEW old reliable comes in the form of the Sicilian Pistachio & Rose Petal Chocolate Bar. Milk chocolate studded with Sicilian pistachios and candied rose petals. Just don't sprinkle these in the shape of a heart all over your bed… could get messy.