Doing Yoga is pretty much the "in" thing these days. It's hard to throw a stone in a big city without hitting a Yoga studio – often one that offers a newfangled type of Yoga that no one has ever heard about. Yoga can be incredibly relaxing, and it's a great form of exercise for men and women alike! If you've ever been curious about all the weird type of yoga out there, read on.
As if the many types of Yoga already out there wasn't enough, it seems every week there's a new type of Yoga being created. The Yogis brought Iyengar, Hatha, Ashtanga, Bikram, Anusara, and Vinyasa yoga to the West, but now you can find some pretty odd Yoga lessons floating around out there.
Here are a few of my favorites…
1.     Stripper Pole Fitness
It's weird, and yet what man can honestly say that he has a problem with this type of Yoga? It combines pole fitness (a classy way to say "learning how to do sexy striptease moves in an exercise-y way") with Yoga lessons, and it actually incorporates the pole into each of the various Yoga poses. It has been called vertical Yoga and – my personal favorite – Polga.
Created by Carla Mock of Lee's Summit, MO, it's a program that you can actually find on a DVD – called Polga Fitness. I know what I'm getting for Christmas for my wife this year!
2.     Ganja Yoga
Can you say WTF??!! Canadian Yogis have a new approach to attracting the youth: combining marijuana and Yoga. One Toronto resident – Ms. Dee Dussault – runs these lessons out of her home, promoting the use of marijuana and its relaxing effects to add to the class. Everyone simple sparks up before the lesson, and they giggle/hallucinate their way through the session.
To finish the session, it's a round of "Duuuuuuuude" instead of the traditional "Oms".
3.     Anti-Gravity Yoga
This may sound like something out of a poorly-made Bollywood sci-fi movie, but it's not! It's a real thing practiced around the country today – involving hammocks hung from the ceiling. Also known as aerial yoga, these lessons involve students performing Yoga, dance, and gymnastic moves will using the hammocks to execute their poses upside-down.
The yoga is believed to help stretch and elongate the spine – making for a great stretching session. Of course, a certain amount of grip strength is a must for those who want to try this type of Yoga!
4.     Doga
If you can keep them from peeing on your Yoga mat, bringing a dog along to your Yoga sessions could be fun, right? A new type of Yoga called Dog Yoga – or simply Doga – involves meditating, stretching, and posing with your pet, using them as props to help you stretch.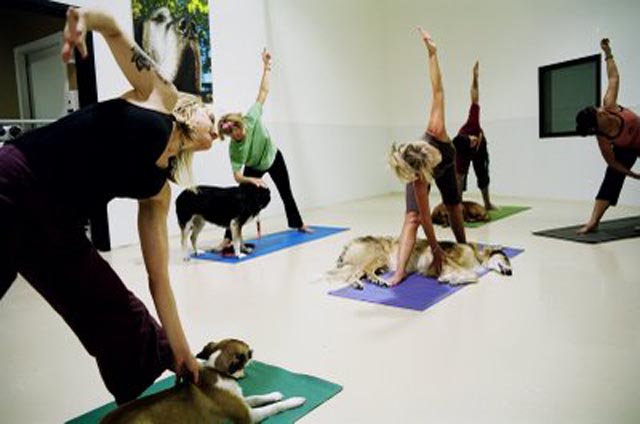 The masters also help the pets get into the various poses, which is supposed to be good for the poor pooch's body. Talk about an out-of-the-box way to cement a friendship with your pets!
5.     Harmonica Yoga
After watching Bruce Willis and Hugh Laurie play the mouth organ, I love the harmonica. However, using it with my Yoga is just something I'd never consider.  Created by musician David Harp, this type of Yoga combines the poses used in traditional Yoga lessons with the breath patterns needed to play the harmonica.
The breathing pattern taught in the classes are supposed to help you learn to play the harmonica, or they just sound good as you puff and wheeze on the mouth organ. Either way, it's an odd way to combine your love of bluegrass with ancient Indian exercise practices!