image via epicurious.com
Cucumbers are one of those miracle foods that remedy hunger in the kitchen, and other life-obstacles everywhere else.  Snack on them to prevent a hangover (seriously, it works!), pad them on your eyes to depuff, rub them on your bathroom mirror to reduce shower fog, and even use them to freshen your breath sans gum!  Containing Vitamins, minerals & all sorts of skin soothing botanicals, Cucumbers also give your feet a soothing, cooling and rejuvenating fix when you've been running around town. Between at-home apothecary-esque mixtures, and brand-name fixes, this power food has taken a turn down south.
Spa maven Skyy Hadley, owner of As "u" Wish Nail Spa, suggests this at-home fix, for an  end of the week veg fest (pun-intended):
Light Cucumber Shell Mask: Take 2 whole cucumber (one per foot), 2 tablespoons of lemon juice and 2 tablespoons of olive oil and blend in a blender until pureed.  Put the mixture in a bowl and heat it up to warm temperature.  Place half of the mixture in a large Ziploc baggie and half in a second baggie.  Slide feet right into each baggie, rubbing cucumber mask all over feet.  Leave on for 5-10 minutes then rinse with warm water.  The cucumber is extra refreshing and reviving for tired toes, the lemon helps exfoliate and the olive oil deeply moisturizes for super softness.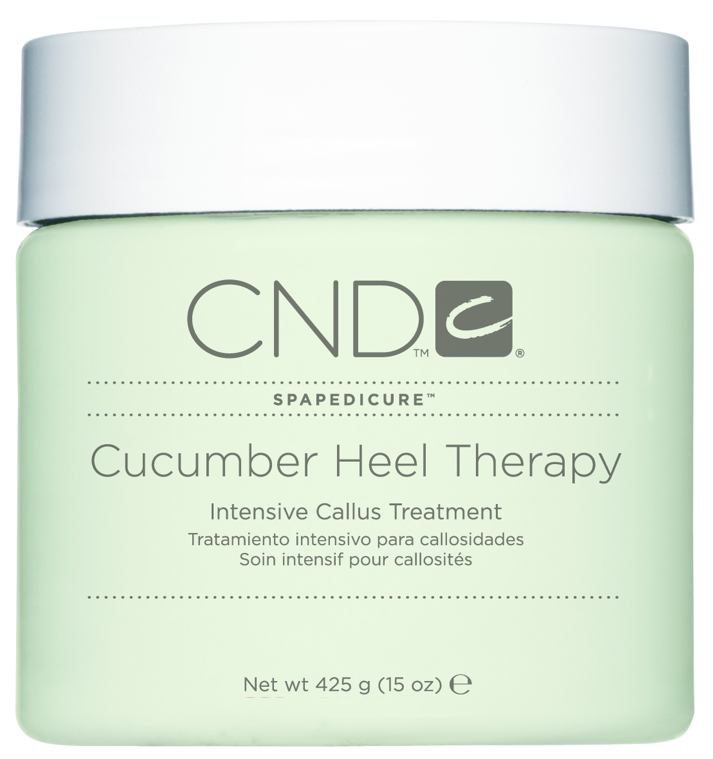 CND Cucumber Heel Therapy CND.com [$15.50 2.6 oz]
Not much for the kitchen? CND makes the Cucumber Heel Therapy jar that I swear by, so much so that I leave it on my night stand to fall asleep to each night.  The concentrated formula, containing cucumber and aloe gives off a fresh scent that soothes, treats and promotes elasticity in the skin. And a little goes a LONG way, so you'll get use out of this wee jar for months. Put it on at night before bed with big fuzzy socks to wake up to baby soft toes, and slater it on with equally big fuzzy socks before you put on your boots for an all day spa session. Yes, I'm that girl waking around with the chic vintage boots over Tweety Bird socks. Don't judge.
Disclosure: All products were provided for review. No monetary compensation was received for this review. All opinions belong to the author.