When I think 'batches of alcoholic drinks, I think kegs. And jungle juice.  But for a classy pot-luck holiday office party, prepare your own, personalized adult beverage fun increasing it to scale, without getting all Animal House about it. Because, let's face it… nobody really eats at those things, anyway. BUT, if you decide to up on the coffee table, dance wildly with mistletoe on your head, spill on the white carpet in front of your boss right before you make out with the mail room dude, it's on you, sista.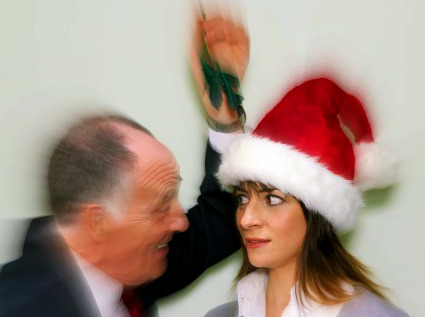 image via baltimorepost
Cranberry Jubilation
Start with an ounce of fresh cranberries in a saucepan.
Add 4 ounces of unfiltered apple cider and a dash of cinnamon.
Simmer over medium heat, stirring throughout, until the cranberries split and soften.
Remove from heat and allow to cool.
When ready to serve, mix 1.5 ounces of the cranberry reduction, a splash of lemon juice, a splash of orgeat syrup, and 2.5 ounces of Vodka 14 in a shaker.
Shake over ice, strain into a martini glass and add 1 ounce of coconut water, stirring gently.
Garnish with a skewered cranberries.
Find this, and other deliciously debaucherous vodka recipes, on Vodka14.com