If you're like me, and most of the TLS crew, using bar soap to scrub-a-dub dub is a way of life. Loofah puffs may look pretty all pretty & spa-like hanging there in your shower, and exfoliating cloths may get down to the nitty gritty of daily grime, but the high chance of bacteria thriving in these sudsy cleansing accessories result  will most likely cause more harm than good.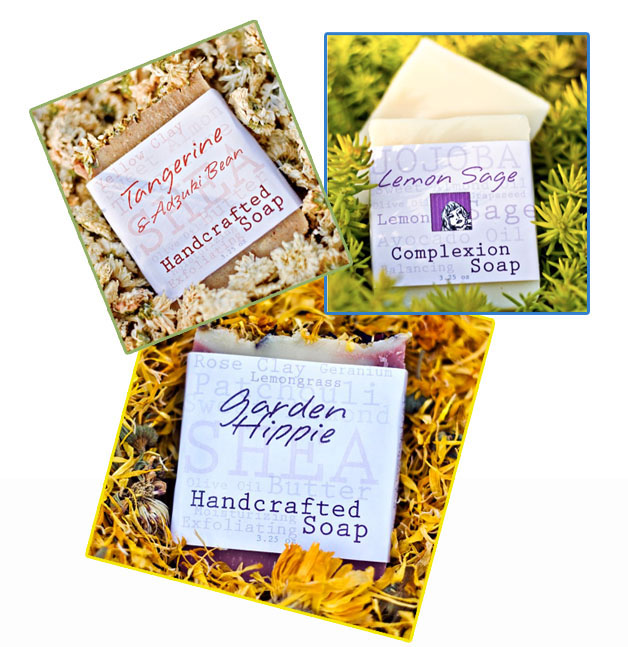 We've been loving the bar soaps from Jackson Sage to help steer clear of harmful bacterias.  Formulated with all naturally colorful herbs, flowers & clay– sans chemicals — these bars will exfoliate with pieces of lavender leaves, while tea tree oil cures the slick. The line of 12 soaps for face & body will give you sure results, with targeted creations to suit any skin type. Selections from nature,  like Tangerine to rejuvenate, or   can get the skin's surface in tip top shape, while essential oils, like gardenia & patchouili, can act to increase & develop circulation while acting as a diuretic. And since each product from Jackson Sage comes from a small batch production,  there's no chance that you'll find two bars alike. A real homegrown carefully formulated beauty home run.
WIN IT: FOR OFFICIAL ENTRY [Contest ends September 24, 2010]
It's time for you to get your small batch naturally handcrafted bar-soap weapon of choice. Pick from one of the 12 soaps here and comment below with which you'd love to win, and why.  It's that simple!
Extra credit: Show off your social media guns and share your answers on twitter @LuxurySpot & @JacksonSage and on Facebook.com/TheLuxurySpot & Facebook.com/JacksonSag