Footzyrolls are the rollable ballet flats that are both comfortable and stylish. Keyword, stylish. If we were always looking for comfort, we'd be flopping around in UGGS each day, just wondering why we can't get a date.  They'll roll up to fit almost anywhere and are perfect to keep on hand for relief from stilettos after a long day at work or night out chasing tail.  What else are the perfect for? All sorts of things!  Slip them in your carry on to have handy on a long plane ride. Keep a pair in the glove compartment – you never know. I'm planning on keeping them within reach for Fashion Week to give my footsies a rest between shows.  And for the impromptu mani – keep Footzyflops on hand. Nobody likes a shine turned botched smudge job on the big toe.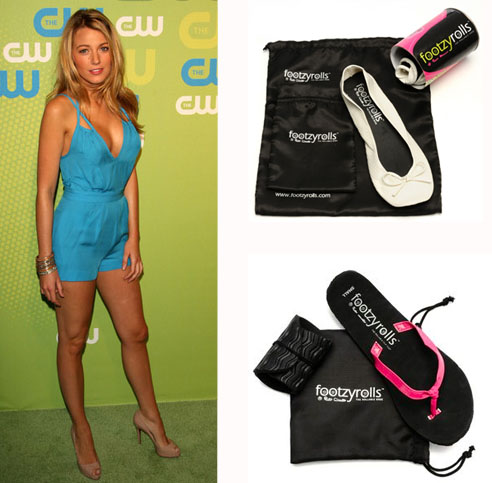 Celebrities who have already gotten their hands (and feet) on Footzyrolls include notoriously stiletto'd stars like  Blake Lively, Kristen Bell, Tyra Banks, Kim Kardashian, Audrina Patridge, Christina Ricci, Claire Danes and model Jessica Hart
FOR OFFICIAL ENTRYÂ  [Contest ends September 10, 2010 — Open to US Residents Only] Celebrity stylist Rachel Zoe recently included Footzyrolls as one of her 20 Style Savvy Suggestions Jet Set Summer Guide — Spill it: What would yours be? Tell us how YOU travel comfortably while staying style savvy.
Comment below, tweet to @LuxurySpot & post on Facebook to Facebook.com/TheLuxurySpot your answers for a chance to win your choice of the Footzyroll OR the Footzyflop.