We all have makeup drama. Sometimes it's trying out the wrong shade of a new eyeshadow, sometimes it's a long-as-hell cry session with a best friend resulting in that raccoon look, or sometimes it's just the end of the day and time to clean up our faces. We compiled a list of the makeup wipes totally worth trying (and for good reason):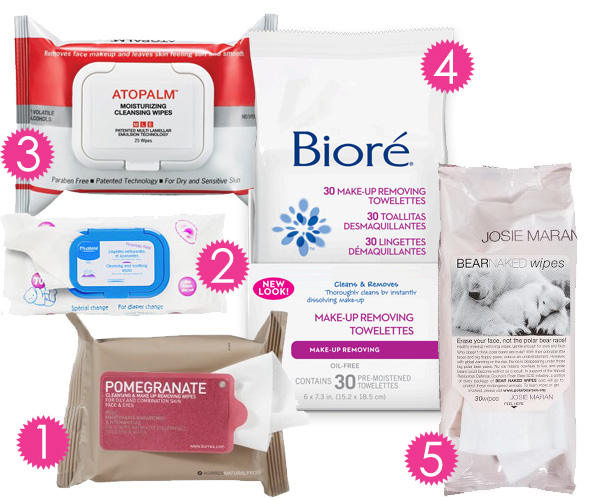 1. Korres Pomegranate Wipes. They're fresh, they smell good, and these bad boys'll tighten your pores in a jiffy. They're also free of harsh parabens and sulfates, and that's something every face can get behind.
2. Mustela Soothing Wipes. They're a total mom-must-have. Great for taking off pesky eye makeup, cleaning up baby's face and tush, and even getting stains out of clothes. Oh, and they're free of all that junky chemical stuff that's dangerous. LOVE.
3. Atopalm Cleansing Wipes. These are your best best for dry or super sensitive skin. They're also paraben free, but infused with antioxidants and Vitamin E to keep your skin moist and glowing.
4. Biore Make-up Removing Towelettes. They're easy to find at every drugstore, they're alcohol-free, made of renewable materials, and are cheap… what more could a girl ask for? Um, how about they do a damn good job of getting schmutz off your face. Like.
5. Josie Maran Bear Naked Wipes. All Josie Maran products are good for the cute little critters of the world (she's big on giving back), but these are also coveted by selfish gals. They do a great job of taking it off, not stripping skin's moisture, and the package is perfectly portable for gals on the go.