Here in NYC, dry winter weather means dry winter hands.   In addition to MY dry winter hands… legs, arms, tummy and all are thirsting for a little extra moisture.  When I heard about this stuff – my testing it was a MUST, and my thorough ability to get caught up in to sappy stories didn't hurt my sticking to my experiment.  Especially once I heard about the experiment that was taking over the charming wee town of Kodiak, Alaska.
Vaseline tested the strength of their newest prescription strength Intensive Rescueâ"¢ Range… and the strength of small town gossip.   One gal, named Petal, who suffered from dry winter hands in her home town of Kodiak put this stuff to the test, with killer results! Moisture is locked in with this hypoallergenic formula. Without a greasy residue! The results? Her skin was less dry, and more supple.
She then began prescribing Vaseline Clinical Therapy to her small town friends, who then prescribed to their family, who then prescribed to their local mailman, who then prescribed to their daughter's dance instructor and so on and so on.  BAM! A Vaseline Revolution was born.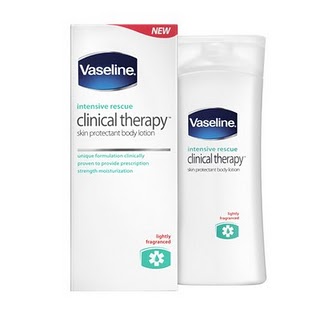 Vaseline Clinical Therapy  provides prescription strength moisturization without the need for a prescription and provides 60% more moisture than a prescription lotion. It can be used every day all over the body to help heal dry skin by providing instant relief, long lasting protection and sustained recovery from dry skin. Clinical Therapy is suitable for all dry skin sufferers, including those with sensitive skin, psoriasis and eczema.
Log on to EverydayHealth.com to view tips from Olympic figure skater Dorothy Hamill on keeping your body healthy at any age. Through the site you can also download a $1 coupon to save on Vaseline Clinical Therapy, read her tips on skincare, nutrition and fitness and support the brand's contribution to the Vaseline Skin Fund to help improve lives of those living with skin conditions.
Find Vaseline Clinical Therapy at drugstores $7.49 6.8 .oz