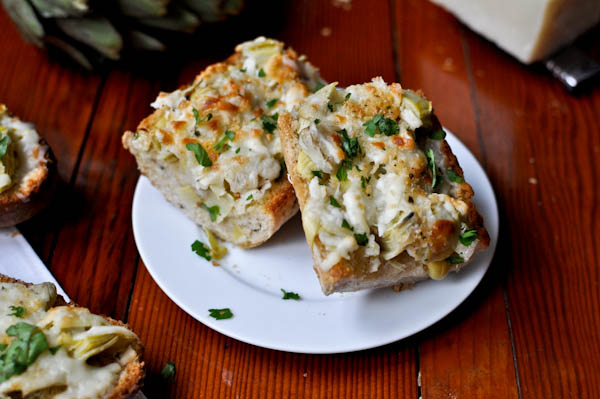 When you're craving a little bread with your salad, taking the extra step to amp up the nutrition without sacrificing the flavor is a straight shot to guilt-free satisfaction.  Kudos to this food blogger for this culinary score.
Cheesy Artichoke French Breads
Recipe from HowSweetEats

serves 4 (depending on the size of your bread)
2 whole grain french baguettes (mine were about 9 inches long)
1/4 cup olive oil
1 14-ounce can of artichokes in water or brine, drained and chopped (about 10-12 hearts)
4 garlic cloves, minced
1 1/2 cups freshly grated parmesan cheese
1/3 cup grated mozzarella cheese
1/4 cup seasoned panko bread crumbs
fresh parsley for garnish
Preheat oven to 400 degrees.
Cut the baguettes in half lengthwise and brush with the olive oil. Equally distribute the minced garlic and chopped artichoke hearts. Top each with a good handful of cheese, about 1/3 cup each. Sprinkle on a few breadcrumbs. Bake for 8 minutes, then heat the broiler and broil for 2 minutes, or until cheese is golden brown. Garnish with chopped parsley.