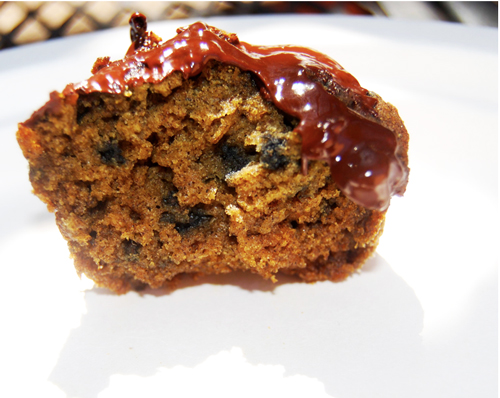 Gluten Free Chocolate Pumpkin Raspberry Cup Cakes
Dry Ingredients:
2 cups of Gluten Free Multi – Purpose Flower
2 teaspoons Baking Powder
1 teaspoon Baking Soda
2 teaspoons Xanthum Gum
½ teaspoon salt
Wet Ingredients:
¾ cup of Canned Pumpkin
½ cup of Agave
½ cup of Applesauce
1 tablespoon of Vanilla
2 eggs
Frosting:
1 bar of chocolate
Directions:
Pre heat the oven at 325 degrees.
Mix all dry ingredients into one bowl and all wet ingredients into another one.
Mix both together into one large bowl.
Spray muffin pan with olive oil and sprinkle some gluten free baking mix lightly on it.
Add your mixture to the muffin pan and place into the oven for 25 minutes
Check with fork to see if ready and if anything sticks then bake for a few more minutes.
Once they are done take out of oven and place a square of your chocolate bar on
top and let it melt. After melted spread across the top.