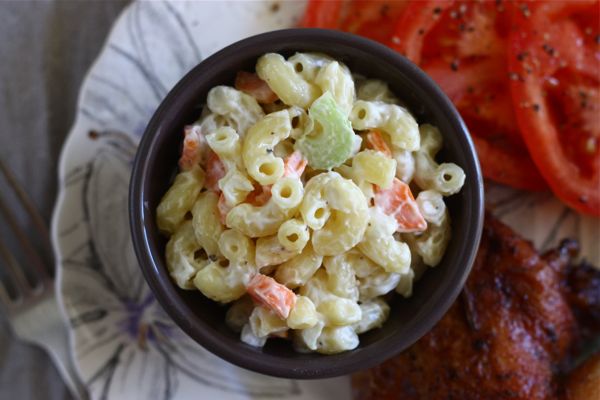 Macaroni salad reminds me of family BBQs back in Florida when I used to wear 90s neon hair scrunchies. I can't wait to bring back those fond memories (of the delicious macaroni salad, not the tasteless fashion choices) with this Hawaiian macaroni salad recipe. It's a fun and tasty twist on the old fave! Recipe and image via A Cozy Kitchen.
Ingredients:
1 pound elbow macaroni
1 1/2 cup mayonnaise
2 teaspoon sugar
2 1/2 teaspoons red wine vinegar
1 teaspoon salt
2 teaspoons freshly ground pepper
3/4 cup diced yellow onion (from about 1/4 onion)
3/4 cup diced carrot (from about 2 small carrots)
3/4 cup diced celery (from about 2 stalks)
Bring a medium pot of salted water to a rapid boil. Cook elbow macaroni according to package instructions, about 5-6 minutes. Drain and transfer to a large bowl; set aside.
For the complete recipe including the salad's delish dressing, click
here
.