Sigh. These Oatmeal Brownie Milky Way Bars are just one of those desserts that's worth the calories. On one hand, I want winter to end so I can enjoy spring fashion, but on the other hand, I don't because I can eat things like this and not worry about wearing bikinis since all I wear are down jackets. What a dilemma. Recipe and image via I Am Baker.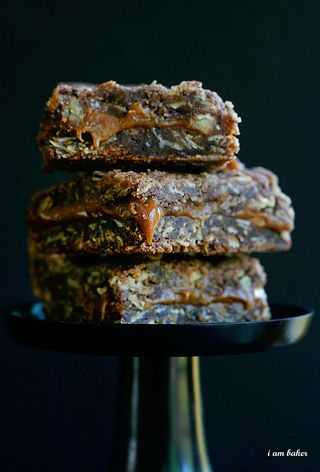 Ingredients:
2 cups Old Fashioned Oats
2 cups Flour
1 cup packed Light Brown Sugar
2 1/2 sticks room temp. Butter
3/4 tsp Baking Soda
1 tsp Salt (I used Kosher)
2 cups boxed Brownie Mix
1/3 cup Canola Oil
1 egg
1 bag (11 oz.) Kraft Caramel Bits
1/2 cup Heavy Cream
2 Milky Way Bars
For preparation instructions, click here.