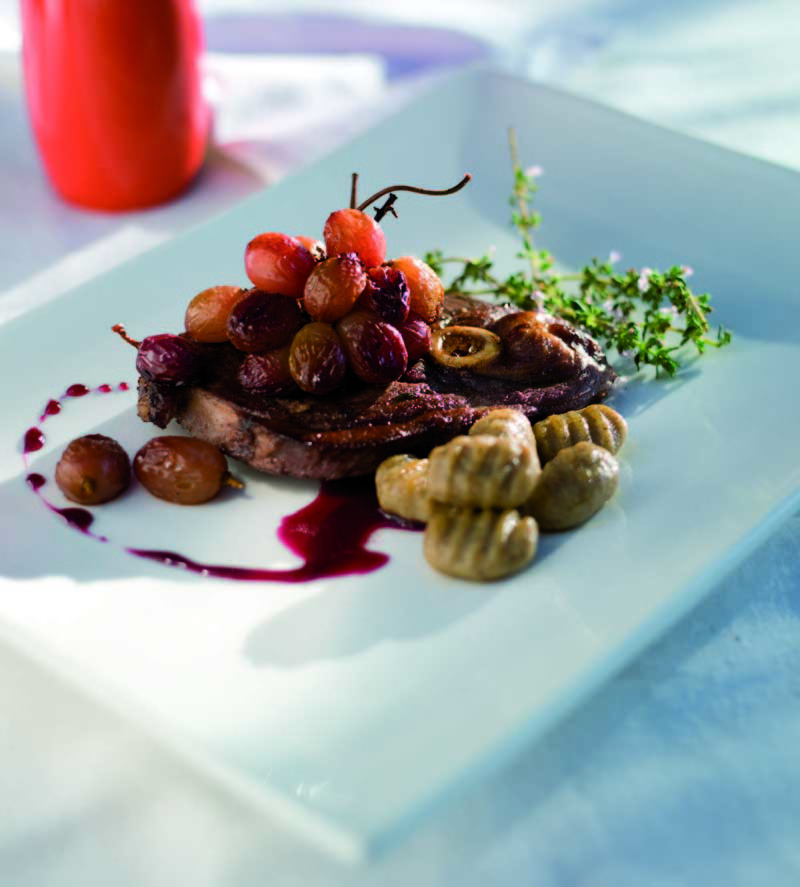 Photo Credit: Jorge Marín R
Pan-fried Medallions of Lamb with Sautéed Pink Grapes and Chestnut Gnocchi
by Pilar Rodriguez
Serves 4
Lamb:
4 lamb medallions
1 cup red wine
3 tablespoons olive oil, divided
2 cloves of garlic, finely sliced
3 cloves
5 black peppercorns
1 cinnamon stick
Grapes:
1 lb. Red Flame seedless grapes
3 tablespoons garlic-infused extra virgin olive oil
Salt and black pepper to taste, freshly ground
Gnocchi:
1.5 lbs. mashed potatoes
5 egg yolks
½ cup plain flour
¾ cup chestnut flour
½ teaspoon salt
2 tablespoons olive oil
2 tablespoons semolina
LAMB: In a bowl, mix the red wine, one tablespoon of olive oil, cloves, sliced garlic, black peppercorns and the cinnamon stick. Add the medallions of lamb and marinate in the fridge overnight.
CHESTNUT GNOCCHI: In a large bowl, mix the mashed potatoes and the egg yolks. Add the regular flour, chestnut flour and salt. Mix well until it makes a nice, even, soft dough. Make the gnocchi using a fork and arrange them on a tray coated with a layer of semolina to prevent them from sticking and then reserve in the fridge.
GRAPES: Using a pair of scissors, cut the grapes into small bunches. Heat the olive oil in a frying pan or wok. Sauté the grapes until the skin is slightly golden and starts to blister. Turn down the heat and cook for another 5-7 minutes. Season with salt and pepper.
Remove the medallions of lamb from the marinade and sear in a hot frying pan with the garlic-infused olive oil for a couple of minutes on each side or until they are a soft pink color inside.
Cook the gnocchi in a pot of boiling salted water. As soon as they rise to the surface, remove, drain the water and then sauté the gnocchi with one tablespoon of olive oil and reserve.
ASSEMBLY: To serve, arrange the medallions on a plate and place a bunch of sautéed grapes in their own juice on top. Garnish with the gnocchi.
Serve immediately.