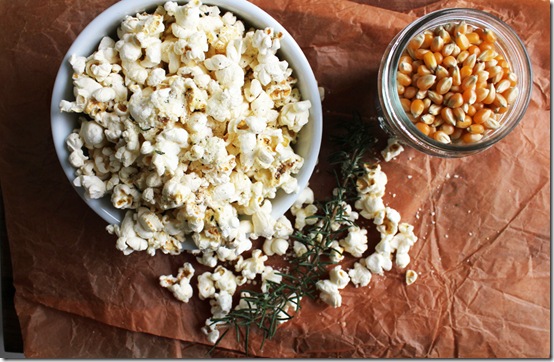 I'm obsessed with popcorn – it's versatile, low-cal, AND it actually has antioxidants (little-known fact) – so whenever I hear about a new popcorn variation, I never hesitate to try it. This one is perfect for making a movie-night-in just a little fancier. Recipe and image via From the Little Yellow Kitchen.
Ingredients:
1 cup popcorn kernels, air popped (6 cups of popped popcorn)
1 1/2 tablespoons rosemary, chopped
1 teaspoon fine salt
2 teaspoons garlic powder
4 tablespoons butter
1/4 cup parmesan, grated
How to prepare it:
Add chopped rosemary and garlic powder to butter. Melt in microwave.
Add popcorn to a large bowl or paper bag. Pour melted butter mixture over the popcorn and toss in bowl or shake inside the bag until all the popcorn is coated. Add salt and parmesan and shake or toss again.