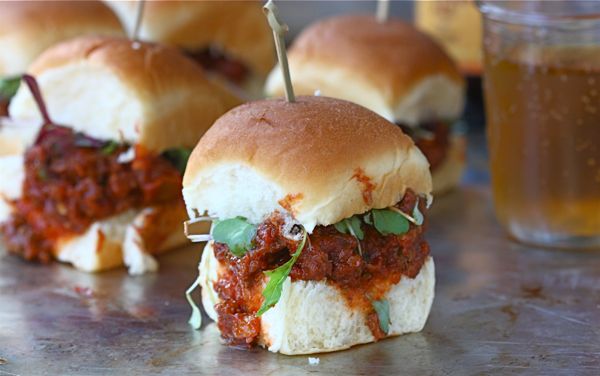 Slider Sloppy Joes
Image & Recipe via A Cozy Kitchen / Adapted from Martha Stewart
1 tablespoon olive oil
1/2 medium yellow onion, diced
1/2 yellow bell pepper, diced
Coarse salt and ground pepper
2 cloves garlic, minced
1 pound ground beef
1 can (15 ounce can) tomato puree
1/4 cup ketchup
1 tablespoon Worcestershire sauce
1/2 teaspoon cayenne (1/4 teaspoon if you're adverse to heat)
1/4 tablespoon brown sugar
1 large handful of microgreens
12 slider buns, split and warmed
In a large skillet, heat oil over medium-high heat. Add onion, bell pepper; season with salt and pepper. Cook, stirring frequently, until vegetables are softened, 5 to 7 minutes.
Add ground beef to skillet. Cook, breaking up meat with a wooden spoon, until it is no longer pink, 6 to 8 minutes. Add garlic and cook, 1 to 2 minutes, until fragrant.
Stir in tomato sauce, ketchup, Worcestershire sauce, and brown sugar into beef mixture in skillet. And add cayenne (if desired). Simmer until slightly thickened, stirring occasionally, 5 to 6 minutes.
Season the mixture with more salt and pepper, as desired. Spoon onto buns, add microgreens, and serve immediately.
Yields about 12 sliders