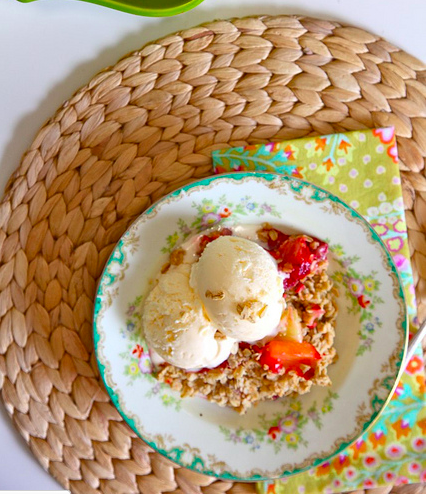 Who says breakfast has to be all bananas & cardboard cereal? Make this over the weekend and add a heaping spoonful of this stuff to your protein-packed  greek yogurt for instant YUM status.
Strawberry Pineapple Crumble
Recipe from Joy the Baker
Ingredients
1 pound strawberries, hulled and cut in half
1 pound peeled and diced fresh pineapple
3 tablespoons granulated sugar
3 teaspoons cornstarch
1/4 cup all-purpose flour
pinch of salt
2/3 cup all-purpose flour
1 teaspoon baking powder
1/4 teaspoon salt
6 tablespoons unsalted butter, cold and cut into cubes
1 1/3 cup old-fashioned oats
1/4 cup brown sugar
Directions
Place a rack in the center of the oven and preheat oven to 350 degrees F.
Toss diced fruit together in an 8-inch square baking dish. In a small dish, whisk together 3 tablespoons sugar, cornstarch, 1/4 cup of flour and pinch of salt. Toss the mixture with the diced fruit. Set aside.
In a medium bowl, whisk together remaining flour, baking powder, salt and sugar. Add the cold butter cubes. Use your fingers to break up the cold butter cubes into the flour mixture. Add the oats and toss together until the butter bits are about the size of the oat flakes.
Pour the oat mixture over the prepared fruit. Place in the oven and bake for 30 to 35 minutes, or until juices from the fruit bubble up around the sides of the pan.
Remove the crumble from the oven and allow to cool for at least 15 minutes before serving.
Crumble can we wrapped and refrigerated for up to 4 days. Reheat in the microwave or wrapped in foil in a low oven.