You could never tell from the pictures that this cake is vegan and free of gluten. This carrot cake recipe makes that moist, creamy cake we all dream of eating, while keeping things light. Image and recipe via Gimme Some Oven.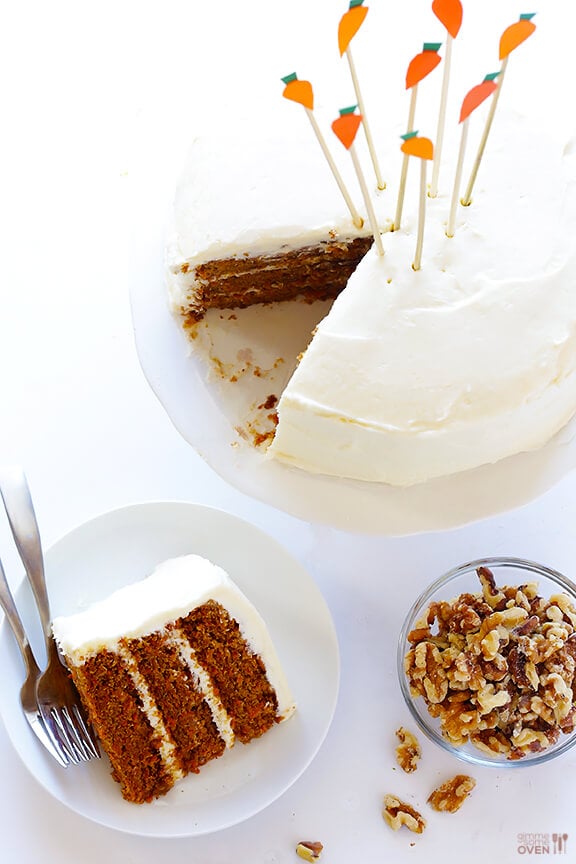 Ingredients:
For the cake:
2.5 cups (12.5 ounces) gluten-free all-purpose flour blend (I used Bob's Red Mill GF All-Purpose Baking Flour), plus extra for dusting the pans
1 Tablespoon ground cinnamon
1 1/4 teaspoon baking powder
1 1/4 teaspoon baking soda
1 teaspoon salt
1/2 teaspoon ground nutmeg
pinch of ground cloves
pinch of ground ginger
1 pound carrots, peeled
1 cup granulated sugar
1 cup light brown sugar, packed
4 flax eggs (*1/4 cup ground flaxmeal and 3/4 cup water, see instructions below*)
3/4 cup vegetable oil
(optional: 1 cup chopped pecans or walnuts)
For the "cream cheese" frosting:
8 cups gluten-free powdered sugar
1 1/2 cups (3 sticks) vegan butter or margarine
3 Tablespoons non-dairy milk (I used unsweetened almond milk)
1 Tablespoon apple cider vinegar
2 teaspoons vanilla extract
1 teaspoon lemon juice
pinch of salt
For instructions, go here.