It's rather difficult to find delicious vegan renditions of traditional breakfast recipes — especially ones with yogurt. These vegan parfaits, though, not only tastes like the real thing, but are fulfilling in every way! They're also gluten-free and refined-sugar free. Image and recipe via Gourmande in the Kitchen.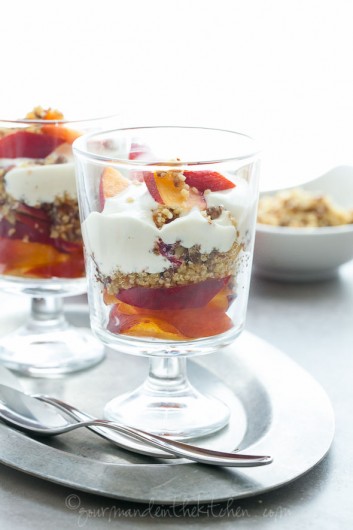 Ingredients
Serves 4-6
For the lemon cashew cream:
1 cup/ 112g raw cashews, soaked
½ cup/120ml filtered water (for the cream)
The juice of one lemon
The zest of one lemon
2 Tablespoons/ 30ml raw honey (or maple syrup for a vegan version)
For the walnut crumble:
1 cup/120g of walnuts or a combination of raw walnuts and almonds (preferably soaked and dehydrated)
¼ cup/40g of raisins
The seeds scraped from the inside of ½ a vanilla bean or ½ teaspoon vanilla extract
¼ teaspoon sea salt
For the parfaits:
4 small or 3 large nectarines or peaches
The juice of ½ a lemon
1 batch of walnut crumble
1 batch of lemon cashew cream
For instructions, go here.