Want to spice up your hair game, but not into weave, wigs, or the commitment of a new haircut? Despite the fact that I dyed part of my hair emerald green last year, I get it. I've compiled three east ways to get the feel of a new 'do without having to make any drastic moves.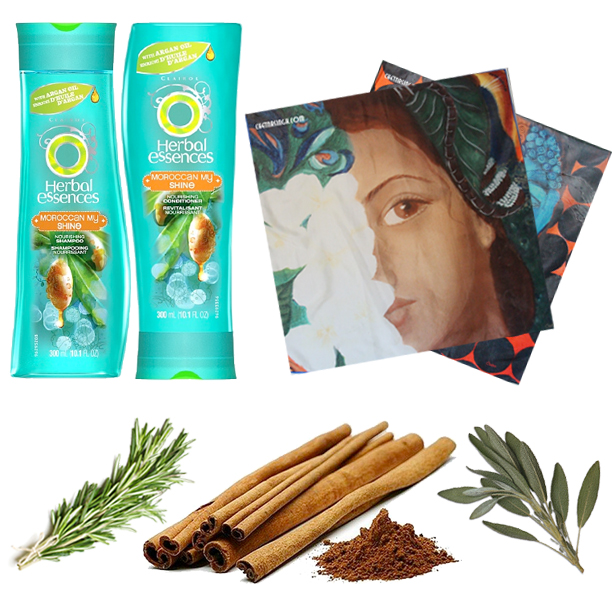 Get gleaming hair the natural way. Concoct a hair tonic at home with spices you may happen to have in your kitchen. If you have dark hair, use 1 tablespoon crumbled sage or 1 sprig chopped fresh rosemary or a mixture of 1 teaspoon allspice, 1 teaspoon ground cinnamon, and 1/2 teaspoon ground cloves. If you have blond hair, use 1 tablespoon chamomile. Once you have your mixture together, pour 1 cup boiling water over the herb or spice mix, let it steep for 30 minutes, strain it through a coffee filter, and let it cool. Use it as a final rinse after shampooing, and your hair will glisten for days.
Or get gleaming hair the normal way, you know, with shampoo. Not just any shampoo, though. Herbal Essences Moroccan My Shine Shampoo and Conditioner contains a touch of luxurious argan oil to make dull hair extra soft and revitalized. It compelled me to wash my hair more than 3 times a week, which is really saying something. Plus, it doesn't have that usual argan oil scent, which I think is great. Moroccan My Shine smells like a dream.
Look forward to bad hair days. Chetna Singh silk scarves make bad hair days chic and artistic. They're such gorgeous works of art, I'd even cover up a fresh blowout to wear one. When you're done adorning your hair with them, you may want to frame them on your wall. After all, the prints are reproduced on silk from original paintings by the artist. Get them at ChetnaSingh.com.