TheLuxurySpot's new favorite MTV program, The Jersey Shore, has recently been experiencing some drama of the unexpected sort. Domino's Pizza has pulled all of their advertising from future episodes of the show. Frankly, I don't think most fans will mind, any good Italian mother would slap their kid for eating Domino's anyway..thats not real pizza.
For some reason I don't think MTV will have any trouble finding sponsors to fill the emptied ad time, TheLuxurySpot speculates that Cadillac, Ed Hardy, Mystic Tan and LA Looks Hair Gel are all bidding for the spot, but none of these claims have been confirmed.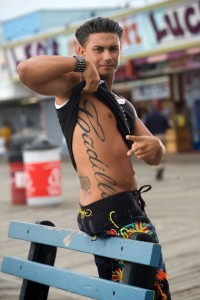 P.S. Just as a little side note, can someone tell the cast that rosary beads are not meant to be worn? Thank you.