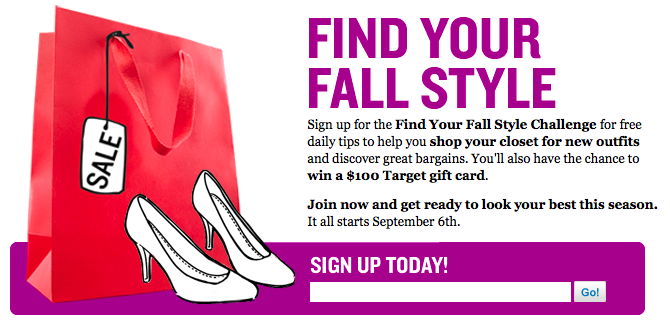 If your not an aspiring fashion designer or are just in need of some help creating new looks with your fall clothes, you have to check out iVillage's Find Your Fall Style Challenge. Free daily tips to help you shop your closet for new outfits and great bargains? Where do I sign up??  Answer: iVillage
When you sign up for iVillage's Find Your Fall Style Challenge you'll be able to interact with  Kim Johnson Gross, Co-Founder of Chic Simple and a style expert who believes in style simplicity. All you have to do is submit a photo of yourself in your new outfit, and your coach will tell you how to make it stylish. How awesome is that, your own cyber stylist?! And not only will you get fashion advice, but you'll also get beauty tips from make-up artist Lauren Luke, because what look is complete without make-up?
Make sure to visit iVillage to sign up for the Find Your Fall Style Challenge now and you will have the chance to win a $100 gift card. Hurry, because all the tips and fashion advice starts September 6th!