Paris catacombs for rent: Spend a spooky Halloween night at an AirBnB in an underground graveyard.
The tagline is 'Bienvenue to the bowels of Paris', and nothing could be more apt for this creepy ass AirBnB.
As if AirBnB needed another stunt to cement them as the only choice for unique vacation rentals, (their cable car in the Alps stunt still gives me urinary control problems) the company is renting out a room in the subterranean labyrinth under Paris where 6 million souls are laid to rest.
In case you don't know what the Paris catacombs are, underneath the city of lights there is a huge mass graveyard where bones were basically laid out on top of each other. 6 million people are buried there, so chances are you are probably related to at least one of them. That basically means this would be a family reunion, and those aren't scary, right?
READ MORE: Are You Poo-Shy? Try Airpnp
The AirBnB package includes a dazzling culinary experience, a private concert with great acoustics, and a bedtime story about the catacombs history.
At this AirBnB page you can register to win a free stay on Halloween, so if dead bodies are totally your thing, you're totally welcome.
Editorial note: if you actually do this please tell us every single detail. But seriously, just get a hotel, this seems like the worst idea ever.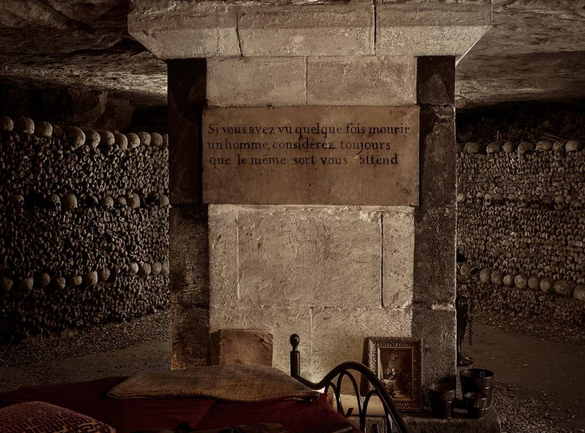 [
via
]