I have a confession to make. I have an entire closet full of cashmere. OK, not literally an entire closet, but I have more cashmere than I really know what to do with. It's not all high-end, either: there's vintage, there's hand-me-down, there's a Joe Fresh piece or two. (For you non-Canadians, Joe Fresh is like the Gap but you can buy it at the grocery store, amazing right?) And it is all softer than a cloud full of unicorns and Care Bears.
Now that my daughter is nearly 3 and a half and no longer liable to spill stuff on everything she owns (unlike my husband – love you honey!), I'm ready to invest in some pieces for her that might last more than a few weeks before getting wrecked. She's ready for some cashmere of her own. God knows she puts mine on and trips over it enough.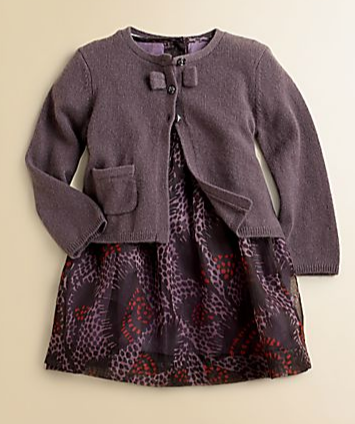 Of course, my husband being British, I went straight for Burberry. They have the most amazing little dusky purple bow-trim cardigan that goes perfectly for winter parties over their feather-print silk dress that I'm currently craving for my golden-haired little girl. Tiny cashmere sweaters are my current reason to exist. And then I got sucked into the ChildrenSalon website and came across this cashmere dress from T-Shirt T-Shops with Swarovski crystals and puppies. Who could resist even one of those things, let alone both? It's like a one-two punch to the credit card.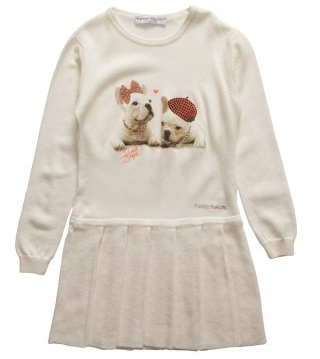 Because at heart I am 100% preppy – like, country club and khakhis and non-ironic dock shoes preppy – I am also  kind of obsessed with the idea that my kid can have the same J. Crew cable-knit cashmere sweater that I have . Is that creepy?
Finally,  if you've got a tiny baby and you don't really care if your kid's cashmere gets every conceivable bodily fluid on it, I am a huge fan of Roberto Cavalli's cashmere-blend cardies. This one's in grey but it would go nicely on either a boy or a girl.