Have you ever gone into a kids' clothing store and had your eyes explode from all the visual noise? Neon, frills, ridiculous patterns, characters…  Now don't get me wrong, there's plenty of room in a kid's wardrobe for bright colours and patterns and even for Dora/Elmo/Disney Princess gear. (My daughter, for instance, is rapidly collecting every Disney Princess dress because I am a softie.)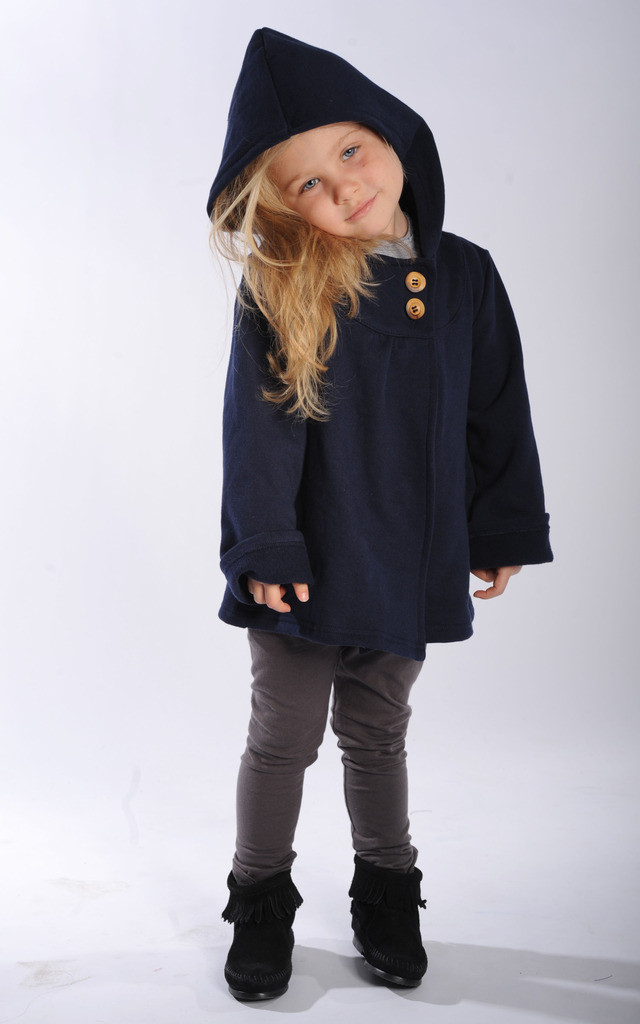 But sometimes, you just want to dress them in something natural and earthy and organic. Something you know is made locally, dyed with natural dyes, made of natural fibers, and is going to make your kid look like they belong in an ad for a lakefront home.
Being Canadian and therefore awesome, I am in love with Mini Mioche. It's a line of all-natural kids' clothing made in Toronto by designer, mom and fashionista Alyssa Kerbel. You know how urban babies wear black? So can your urban baby, if you shop here. My daughter is currently groovin' on her Sweet Swing jacket which is a lovely layering piece for the chilly fall outdoors or the chilly winter indoors. And I dare you – DARE YOU – to show me a baby who wouldn't coo over the soft lambskin Kina Ballet Slippers.
I also have an unhealthy obsession with Earth Child Clothing. It's a South African ethical-fashion brand that uses 100% cotton (usually organic) and natural dyes. They used to have a store right across the street from my office in Toronto, but the store closed because clearly I didn't spend enough money in there, which is a mistake I will not repeat. They do have an online shop, though, because the Internet is amazing.
There is literally no cuter dress than the Flower Power dress, and I kind of want these lemon-yellow stretch skinnies in my own size. If you've got a boy, this jaunty straw hat and these amazing dark-wash jeans will make him the most adorable hipster kid.
Do you have a favourite natural-fabrics kids' line? Let me know in the comments!