Crater Lake is the main feature of Crater Lake National Park, in Oregon (Its ingenious how they come up with these names).
It is the deepest lake in the US, and the second deepest in the continent. In terms of the world, it is the ninth deepest lake on Earth. This begs the question, what is so great about the Great Lakes?
It was formed by the collapse of a volcano, Mount Mazama almost 8,000 years ago. This means that it is almost as old as Demi Moore.
Crater Lake has no indigenous fish population, but in the early half of the last century, it was stocked with a smattering of different fish species, of which only a few survived and self-sustained.
The lake is known for the "Old man of the Lake", which is a full sized tree stump that has been bobbing vertically in the lake for over a century. The wood hasn't decomposed because of the low temperature of the lake (I am thinking about going to Crater Lake and just sticking my face in it for a few years).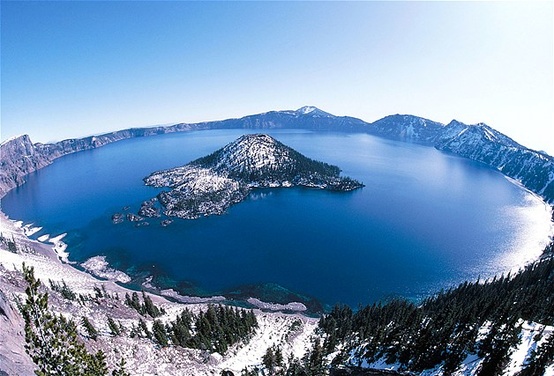 [
via
] [
via
] [
via
]