Competition is pretty stiff when you live in a city populated by more than 1.6 million people. You gotta do whatever it takes to stand out on a date or you'll be flying solo. I always liked the idea of hooking a mate by going on a few innocent dates, eventually followed by a no-pants party in which the guy discovers during the removal of my garments that HE HAS NO IDEA WHAT HE'S GOT HIMSELF INTO.
As luck would have it, I found Ginch Gonch underwear before obtaining a "Your Face Here" tattoo on my left ass cheek. Ginch Gonch specializes in bringing sexy back via '80s designer underwear. They've recently expanded the line to include women's briefs, and from personal experience, it's an investment you won't regret. Besides allowing your naughty bits to breathe, these bad boys can sustain any kind of calamity your nether regions may face (or, at the very least, they'll survive the washing machine). The throwback patterns also make for a great icebreaker (if you should need to break the ice while getting undressed).
GG pops out new designs quarterly, all with the distinct flavor of the '80s. The underwear mavericks were inspired by the overtly sexual tighty-whities popularized by Calvin Klein and Tommy Hilfiger back in the day, except they took the banana hammock style and cut of the '80s and spliced it with the patterns you wore as an '80s child (trains, planes, and automobiles, anyone?) I have to admit, those old school CK ads ARE slightly inspiring.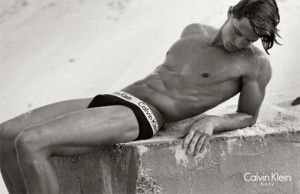 Hot, but boring. Traditional. Seen it a million times. I'd prefer to see something unexpected under a man's jeans that doesn't send me running in the other direction or to the gyno. And nothing screams "hot to trot" like multicolored argyle nuthuggers in my book. Boxers are cool for rappers or when you're in the fifth grade, but I like my gifts to come packaged up nice-n-snug in colorful wrapping. Any man with the balls to "cover their inches in Ginches" is more than enough man for me.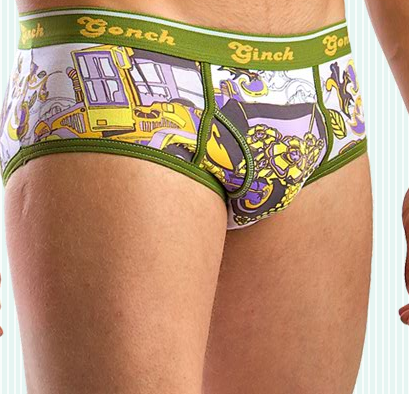 Already have a partner? Buy in bulk. These killer knickers are sure to lock down that quirky threesome you've been trying to negotiate.