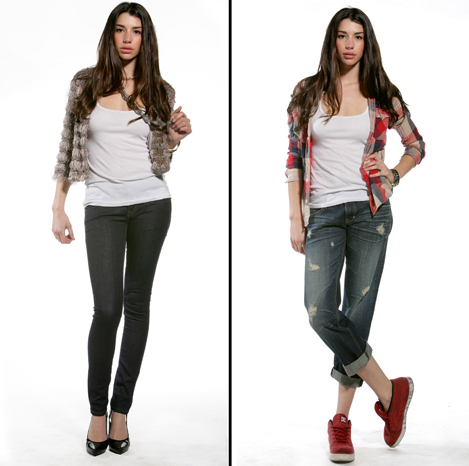 1 Brooklyn Indie Market Cue the fist pump: The DIY marketplace, which spotlights cool local designers, reopens this weekend in Carroll Gardens. Under a red- and white-striped tent, you'll find some familiar names, including Kimmchi silk-screened lingerie ($10–$32), Rebecca Shepherd jewelry ($25–$325), and Elements for Inspired Living housewares ($30–$80), as well as a few newbies, such as Liria Shop boho-chic bib necklaces ($10–$45), HaKNik jewelry adorned with vintage findings for $10 (originally $18–$38) and Sweet Buddha Designs eco-friendly journals ($3–$25). Smith St at Union St, Carroll Gardens, Brooklyn (718-753-2180, brooklynindiemarket.com). Sat 11am–7pm; Sun 11am–6pm. Through Dec 25.
2 Hayden-Harnett Cheap Thrills pop-ups We cannot wait to scour the racks at these well-stocked shops, where you'll find deep discounts (20 to 80 percent off!) on pieces from such indie designers as Yegang Yoo, Sarah Yu and, of course, the host brand itself. Eskell checkered cotton rompers are trimmed from $200 to $100, and flowing Hayden-Harnett silk dresses are $82 (were $325). 253 Elizabeth St between Houston and Prince Sts (212-334-2247, haydenharnett.com). Mon–Sat noon–8pm, Sun noon–6pm. • 211 Franklin St at Freeman St (718-349-2247). Tue–Sat noon–7pm, Sun noon–6pm. Thu 1–Apr 26.
3 Martha Stewart Stitch Fest To celebrate Martha Stewart's newest book, Encyclopedia of Sewing and Fabric Crafts, her crew is throwing a sewing party (whoop!). The $30 admission buys a copy of the new book, unlimited cocktails, hors d'oeuvres and an evening scoping out projects featured in the book, including fabric crafts, sewing, embroidery, dyeing and appliqué. One of Martha's favorite instructors, Becky Hanson, will also lead a sold-out Tote Bag 101 workshop—but fear not, craftsters, we have your hookup. The tenth reader to e-mail style@timeoutny.com with Martha in the subject line will win a coveted spot. Martha Stewart Living Omnimedia, Starrett-Lehigh Building, 601 W 26th St between Eleventh and Twelfth Aves, ninth floor (thecraftsdept.marthastewart.com). Thu 1 6–9pm.
4 Dressed to Kilt If your smooth-talking skills still haven't gotten you past security at the Bryant Park tents, you're in luck—this open-to-the-public Scottish fashion show, cocktail reception and silent auction will satiate your hunger for frou-frou fashion. Snack on national specialities like mince pies, haggis and Scottish salmon while gawking at celebs (Mike Myers, Gerard Butler, Joan Jett, Alan Cumming, etc.), who will be modeling Scottish fashions down the runway. You can also bid on a trip to Scotland, a bottle of limited-edition Glenfiddich Scotch whiskey or a voice mail recording from Sir Sean Connery. Speaking of 007, the event's proceeds will benefit Connery's Friends of Scotland organization, which provides support for war vets in the U.S. and abroad. VIP tickets are $350, general admission is $175, and those under 30 can purchase tickets for $99. M2 Ultra Lounge, 530 W 28th St between Tenth and Eleventh Aves (212-452-3177, dressedtokilt.com). Mon 5 7:30–10pm.
5 Louis Féraud The crazy discounts on this posh French line will have you doing the cancan from Manhattan to Marseille. Founded by artist Louis Féraud in 1950, this Parisian brand has been worn by everyone from Brigitte Bardot to Joan Collins—and perhaps vous, too. Silk dresses with embroidery and metal accents are marked from $2,375 to $300, and wool ladies' shorts are cut from $595 to $75. Summery printed tops (perfect for a stroll in the park) are lowered from $625 to $120. Misorena Limited, 260 Fifth Ave between 28th and 29th Sts (212-725-5400). Mon 5–Apr 9 9am–7pm; Apr 10 11am–7pm
6 TRIA Beauty Blue Lounge Pamper yourself with a free makeover from the professional beauty and styling team at this pop-up, where you'll munch on candy, get a complimentary blowout, enjoy tunes spun by a live DJ, and experiment with a new look (we're thinking sapphire eye shadow might be in order). Best of all, you'll get to brag to your friends about testing the new TRIA skin-clarifying system, an FDA-approved blue-light device that supposedly clears up your skin and helps prevent future acne breakouts. Leave with a sack of free candy and hair accessories to keep you in a sweet mood all day. 155 Fifth Ave between 21st and 22nd Sts (triablue.com). Mon–Fri 11:30am–7:30pm; Sat 10am–6pm; Sun noon–6pm. Wed 7–Apr 13
7 Anoname Jeans Does HBO's How to Make It in America have you dreaming about denim (and oh-so-hot Bryan Greenberg)? Live out at least one of your fantasies by investing in a few new pairs of jeans at this online markdownfest (cutdrop.com), where ten percent of the proceeds will benefit LifeBeat (lifebeat.org), an organization tied to the music industry that raises awareness about AIDS. The denim deals include boyfriend styles for $77 (were $110); skinny jeans, knocked from $110 to $77; boy shorts, cut from $72 to $50; and Bermuda shorts, slashed from $72 to $50. Through Apr 30.
8 Ca$hmere Despite what the corporate drones around you might think, knitwear can be stylish and office-appropriate—this sale is proof. Snatch goodies at the Meatpacking District showroom, including cashmere knit tops with bow designs, sliced from $265 to $75; and silk turtleneck dresses with sequin sash embroidery, whittled from $225 to $60. Fashionable gents will also want to get their hands on black-and-white shawl cardigans with graphic dollar-sign prints for just $60 (originally $175). 420 W 14th St between Ninth Ave and Washington St, studio 35W (212-691-3828, cash-mere.com). Fri 2 1–7pm; Sat 3 noon–5pm.
9 10/10 Optics Those nerd goggles on your noggin are screaming for a wedgie. Stop by this optical blowout and score a snazzy new pair of specs for up to 60 percent off. Lulu Guinness black frames with starburst temples are slashed from $229 to $89, and men's flexible Tourneau glasses are sliced from $295 to $129. Or jazz up office duds with a pair of Lafont plastic cat-eye frames, chopped from $229 to $89. But wait! Don't leave those goggles at home—customers who bring in their old frames will receive a $50 gift certificate toward newly stocked brands, including Barton Perreira, Bevel and Frieze Frames. <50 Madison Ave at 26th St (212-366-1010, 1010optics.com). Mon–Fri 10am–7pm; Sun noon–5:30pm. Thu 1–Apr 30. Closed April 5, 6.
10 Sferra Luxury Linens Hey, klepto, stop stealing washcloths from ritzy hotels and buy your own at this luxury linen sale, where prices on cushy items like throws, towels and pillows will be dropped 50 to 80 percent. Egyptian cotton full and queen sheet sets (400 thread count) with vine embroidery are hacked from $430 to $230; vibrant-colored sateen duvet covers with matching shams are cut from $267 to $89; and striped, woven twin-size cotton blankets are tagged $59 (were $199). The Privé, 75 Ninth Ave between 15th and 16th Sts (212-543-4300, theprive.com). Wed 7–Apr 10 10am–7pm; Apr 11 10am–6pm.
11 Steuben Glass Stop putting deli tulips in your Brita pitcher, and buy the kind of vase that will impress your mother at this glassware specialty shop. With the purchase of any other Steuben merchandise, get 25 percent off on a handmade glass vase of your choice. Tall, cylindrical, bamboo-inspired vases are $413 (originally $550), vases with fluttery folds suggestive of handkerchiefs are snipped from $600 to $450, and flared-top vases with abstract flames are knocked from $1,400 to $1,050. 667 Madison Ave at 61st St (212-752-1441, steuben.com). Mon–Sat 10am-6pm. Mon 5–May 15.
Via TimeOutNY