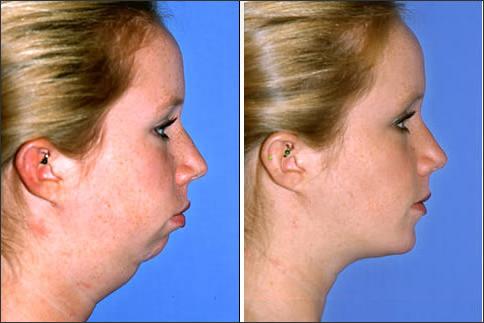 In the never-ending quest to be prettier than everyone ever, the good people of the internet are apparently turning their profiles towards chin implantation- and some doctors are suggesting that all our added "face time" on video chat, high resolution cameras, etc might be the impetus. Read on for some startlingly interesting information that might lead you to call the nearest Dr. Smith for a Bethenny Frankel-inspired augmentation…
New statistics released today by the American Society of Plastic Surgeons (ASPS) show that chin augmentation is the fastest growing plastic surgery trend among all major demographics — a phenomenon which may be sparked by increased usage of video-chat technology.
Chin augmentation increased 71 percent overall in 2011 compared to 2010, growing more than breast implants, liposuction and Botox® combined. New statistics show that the procedure skyrocketed in both men (up 76 percent) and women (up 66 percent) as well as in all adult age groups. 
20,680 American had chin implants last year – up 71 percent
On average, someone got a chin implant every 25 minutes in 2011
Plastic surgery procedures are usually gender specifically but men and women are pursuing this with equal interest.
Why are people getting these procedures? Reasons of course vary but anecdotally, surgeons are hearing that patients want to look younger, thinner and stronger. Some want to look better on their iPhones! (Looking down more often can loosen or, at least, exaggerate excess fat around the neck and can make us all look a little flabbier.)
Another interesting nugget from the report is that cosmetic procedures increased by 8 percent among Hispanics, 6 percent among Asian-Americans and 6 percent among African-Americans in 2011.