This cold weather makes me want to eat everything I see. These cream puffs look so fluffy and delicious. Another thing I've been craving is this Nutella hot chocolate, so good and warm. Image and recipe via Hummingbird High.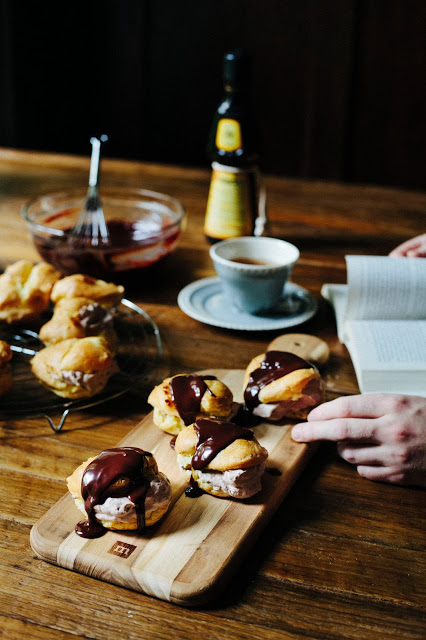 Ingredients
For the Profiteroles:
(makes sixteen 2-inch cream puffs)
1 cup water
6 tablespoons unsalted butter, cut into 1-inch cubes
1 tablespoon plus 1 teaspoon granulated sugar
1/8 teaspoon salt
1 cup all-purpose flour
4 large eggs
For the Chocolate Hazelnut Whipped Cream Filling:
(enough for sixteen, generously filled 2-inch cream puffs)
1 1/3 cups heavy whipping cream
3 tablespoons granulated sugar
3 tablespoons unsweetened cocoa powder
2 tablespoons Frangelico hazelnut liqueur
1 teaspoon pure vanilla extract
For the Chocolate Hazelnut Ganache Topping:
(makes around 1 1/2 cups, enough for sixteen cream puffs)
4 ounces semisweet or bittersweet chocolate, finely chopped
1/2 cup heavy cream
1 tablespoonFrangelico hazelnut liqueur
For instructions, click here.