You want to look like a zombie nurse, eh? We've got that makeup tutorial, no worries.
We are now only two-ish weeks away from all hallows' eve so it's really go-time for figuring out your costume. You could dress up as something cute like a Disney princess or Audrey Hepburn. You could go for something political — get a spray tan for Donald Trump or a power suit for Clinton. Or you can really get into the Halloween spirit and be an undead, zombie nurse. This is also a perfect opportunity to break out that totally sexist costume you had from like 6 years ago and zombify it without spending a ton of extra Halloween cash.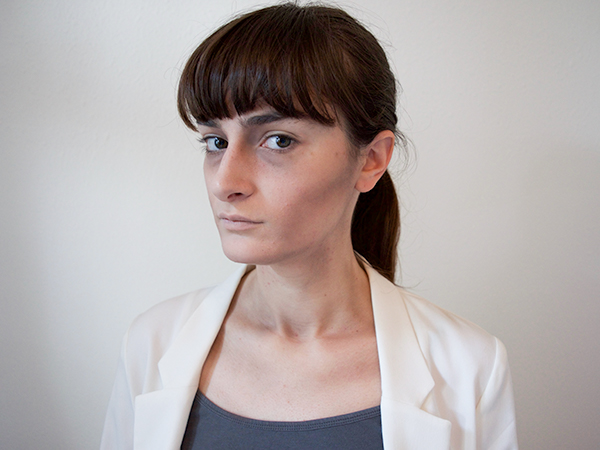 To start your zombie nurse makeup you will need to contour and highlight. Obviously, this doesn't fall into the Kim Kardashian school of contouring (or does it?). To make things easier, I started with highlight first and just applied a foundation a few shades lighter than my skin. For contour I used a dark gray eye shadow and the Sigma Soft Blend Concealer brush. I started on my neck and chest, just using the shadow to darken all hollows. To make myself look gaunt, I followed the lines of my clavicle and up the sides of my neck.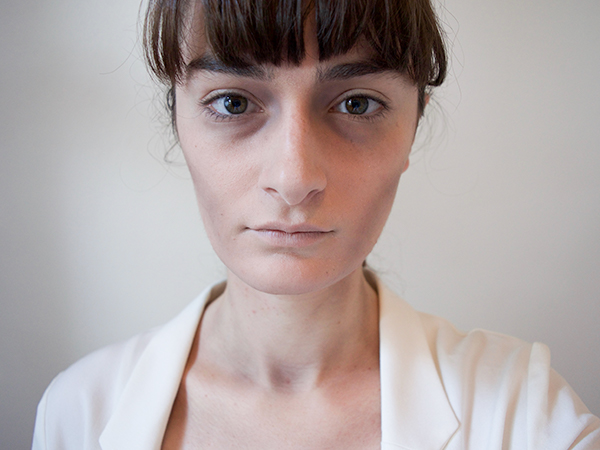 For face contouring I used a smaller brush to apply the color, and blended it out with the same Sigma brush. This allows you to be more precise with applying the color exactly where you want it, but being able to blend it quickly. I went overboard on contouring my cheekbones with a downwards angled line to suck any roundness out of my face. Zombie nurses don't have cheery, round faces. I also contoured under the jawline so it would be clearly defined. Then I contoured the inner corners of my eyes to make them look more sunken in, you know, like a real zombie nurse would have.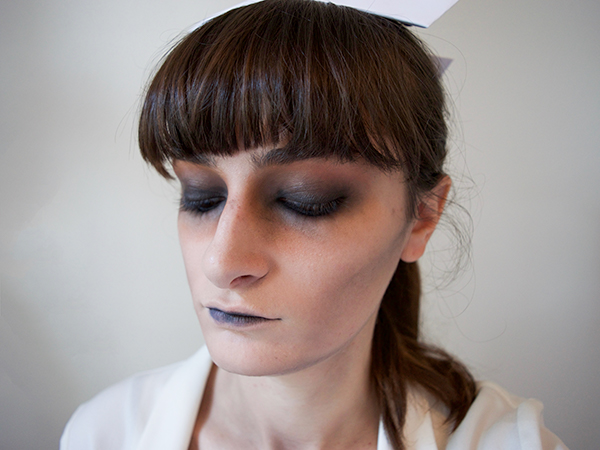 The rest of this makeup look focuses on the eyes to make them look sunken and somewhat bruised. First I applied a warm red-brown eyeshadow all over my lid, up almost all the way to my brows and into my lower lash line. I then mixed together an orange with a tan shade to blend it out. Next, I applied a black eyeliner to my waterline so it would blend into the makeup look better. To finish up the eyes I used a matte black eyeshadow on the upper and lower lash lines and blended up and out. Creepy, right?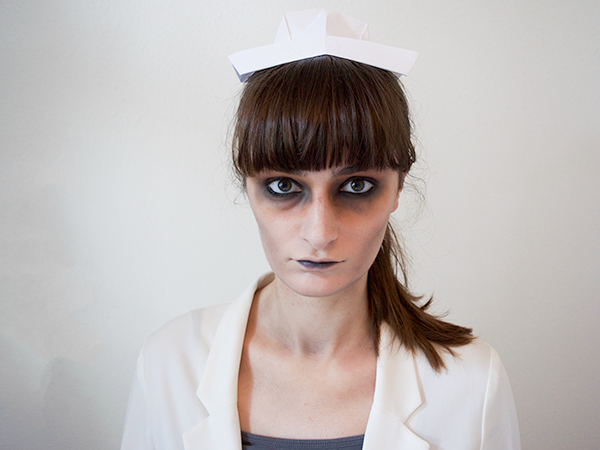 Finishing touches are a touch of black lipstick just on the inside of the lips and your best death stare. If you want to up the scare factor of your zombie nurse look, you could add wounds/bruises in other places, just follow the same steps I used on the eyes. You can also add as much or as little fake blood as you want, just be aware that it will stain absolutely everything it touches.
When you are totally zombified, grab your white coat, don your white nurses cap and you are ready for Halloween or just being the creepiest gal in the ER. Either way, you win.
Love this article? For more beauty, style, travel, and trending topics check out The Luxury Spot on Facebook. Like us and we'll love you back!