If the somewhat recent rash of #Holocaust selfies weren't enough to make you lose your mind, now somewhat popular 'fashion bloggers' are shooting their #OOTD posts at memorial sites.
Is it just me, or is shooting your outfit in a place memorializing the unfortunate and unjust deaths of millions lacking in taste? Blogger Natalie Joos, or @jxxsy on Instagram, did exactly that today. She propped her satchel-style bag atop one of the concrete tombs, popped her fur-lined hood and stood on the ground where so many people perished from the cold, starvation, and murder. She then hashtagged #freezing, and in another hashtag alluded to her outfit matching the grey scenery.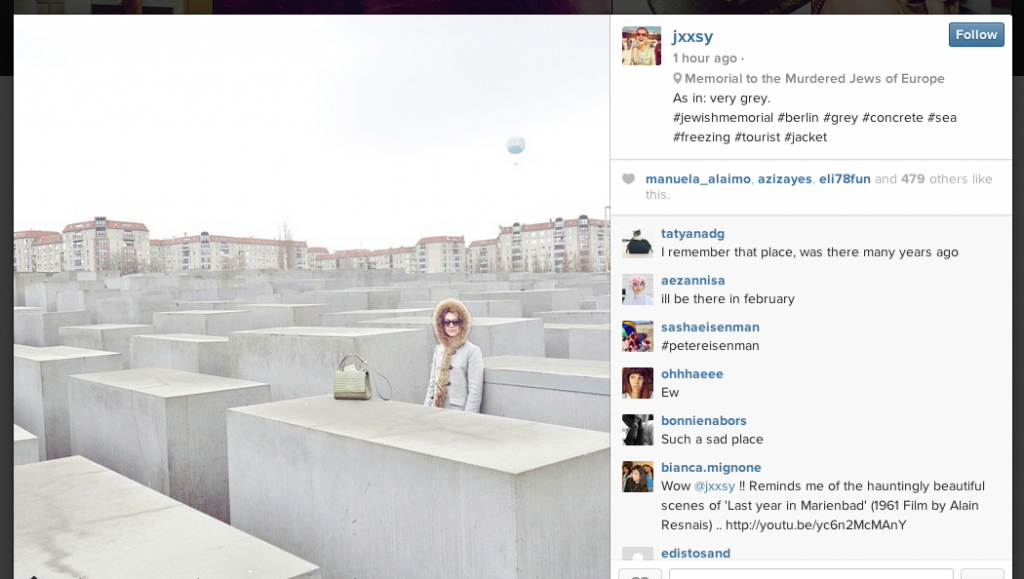 What's more disturbing is that hundreds of people "liked" the image within the first hour of it being published– and we can only hope those were purchased bot-likes. If you haven't eaten today, scroll through the comments here and feast your heart on one of the most disappointing displays of humanity that doesn't directly violate the Instagram Terms of Service.
I'm all for reminding people how important these memorials are, but take your purse down, and try a caption like "remembering all the great minds and hearts lost here."
UGH.