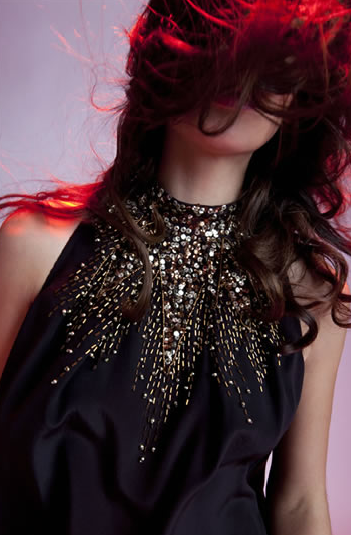 For Fall 2012, Nieves Lavi design duo Sharon Lavi and Sam Nieves Velez pay homage to their favorite Era – the 70's – as well as New York City, Bianca Jagger and the legendary Studio 54. The prints are inspired by the ethnic artworks of the northern regions of India, Kashmir and the Himalayas.
Looking through the Nieves collection, every single piece would fit perfectly into your wardrobe this winter, and you would definitely be the hottest one at your Holiday parties wearing one of her dresses!
The dresses, tunics and jumpsuits feature intricate paisleys and snake prints in rich colors like orange, deep emerald green and amethyst purple, resulting in a vibrant, free-spirited – yet very modern and forward-looking – collection. Parisian chic meets casual Caribbean with this stunning, summertime must-have line, infused with a rich, warm color palette. The vibrant collection introduces effortlessly glamorous dresses and tunics that evoke the sensual, relaxed aesthetic of a lush paradise. Featuring deep blues and greens inspired by the azure seas, and swirls of coral and pink that call to mind a breathtaking sunset over the sandy shoreline, the Resort 2013 Collection offers breezy pieces that conjure images of an exotic escape. This marks Nieves Lavi's return to resort season after a brief hiatus, as the brand's signature aesthetic of breezy summer prints and silhouettes perfectly captures the feel of a resort collection.
Founded in October 2003 by Sharon Lavi and Sam Nieves Velez, Nieves Lavi New York is a New York-based contemporary design label known for their original artistic prints and simple, yet sophisticated silhouettes. Nieves Lavi also has a prominent fan base, from fashion editors to celebrities, including: Jessica Alba, Eva Mendes, Kelly Ripa, Sarah Jessica Parker, Katharine McPhee and Kourtney Kardashian, among others.
Shop the collection online here.