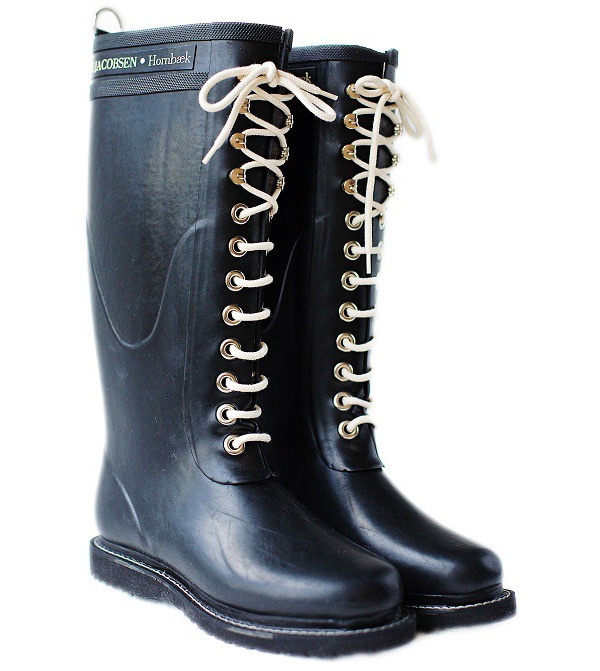 Shall I dare even write this article? Speak about rain, and snow? Alas, the inevitable weather change is coming my friends. So in preparation for the New York City cold I recommend getting ahead on your winter shopping and purchasing a pair of Ilse Jacobsen Hornbaek's boots. Ilse Jacobsen Hornbaek is a Scandinavian designer whose philosophy, "Is built upon a combination of Scandinavian simplicity and international trends." Stemming from her natural rural roots in utility and simplicity, her designs are feminine and comfortable to wear.
Chic rain and snow boots from Jacobsen Hornbaek, are literally the biggest must haves of the Fall/Winter Season. Not only will they keep you warm and protected from rain, snow, and whatever else this Winter has to offer, but also they are beyond stylish. Plus you will be the only one of your friends looking fashionable in the brutal weather.
If you don't believe us, than take a fashion hit from the two most stylish it-girls in the world right now, Lana del Rey, and Alexa Chung, both ladies are major fans of these boots.
Made to match everyone's personally they come in shades of black, brown, navy, nudes, and neons. These are the real deal, they are designed for hours of serious walking and playing in rain or snow.
So imagine, rubber boots that are stylish, comfortable, waterproof and breathable, so your feet stay warm and dry, no matter what the conditions.
Available for purchase here.