Read this before you buy one of those expensive golden facial kits.
Having dewy, perfectly unblemished, non-aging skin is in. Who wouldn't want to look young forever? As skincare in general, and masking in particular rise in popularity exciting new ingredients come out to play. Today we're dissecting golden facial kits that promise you a life time of perfect skin.
A bubbling jar of golden goo? What could be more luxe? We'll give you a hint — these $2 fruit facials are a far better investment.
Should you use those golden facial kits?
Is there a good reason to feel like Charlize Theron in The Huntsman and have a golden face? Dr. Melissa Kanchanapoomi Levin, board-certified NYC dermatologist and clinical instructor at Mount Sinai says, "Nope!"
Although people love the shiny, luxurious appeal of gold, there's really no reason to go wasting it on your face. Dr. Kanchanapoomi Levin even notes that this is a scientifically backed no. She says that gold has been used medicinally "as an anti-inflammatory with antioxidant properties in autoimmune conditions such as arthritis."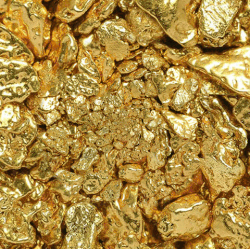 All the hope (and marketing) was there to have us all donned in gold for the rest of time. But, the good doctor says, "There is no clear evidence at this time that demonstrates that topical gold provides any anti-aging benefits."
Before you get your wallet out anyway, we learned that it may even be a good idea to avoid those gold facial kits. "Gold was the 'allergen of the year' in 2001 by the American Contact Dermatitis Society."
The answer is in: spend your money on good skincare, not gold skincare.
Better skincare
If it's anti-aging skincare you're looking for we suggest three things first.
Sunscreen. The sun does not have your back in the anti-aging arena. In fact sun damage plays a huge role in how our skin ages. If you haven't started slathering your face in SPF 30 on the daily we recommend you start now. While you're at it, you can read this piece on how to erase sun damage.
Exfoliators. Turning over old cells helps to alleviate signs of aging and wrinkles. People's skin vary greatly over appropriate exfoliation methods but when anti-aging is the name of the game go for acids. Glycolic acid is a good pick, or see your derm for prescription strength retinol. Even scalp exfoliation has become popular, and for good reason.
Moisturizers. Plumping skin back up is a must. Starting eye creams early never hurts and a morning and night time moisturizer helps give back to your skin. For those with oily skin, opt for light gel style moisturizers. The drier your skin is, the heavier the moisturizer you can use. Try checking out our recommended face care routine.
Love this article? For more beauty, style, travel, and trending topics check out The Luxury Spot on Facebook. Like us and we'll love you back!