Padma Lakshmi is a babe. Plain and simple, she is a major hottie and anyone who denies that is either guided by jealousy or blind. The Indian model/actress/author/Top Chef host has, among many other attractive features, amazing hair.
Photo Courtesy of DailyCeleb.com
So, naturally being completely jaded I thought "Well, shit..I would have hair like that too if I had boat loads of money to spend on hair products and a hairstylist to follow me everywhere" but if you do some digging apparently Padma uses Pantene. Yup, Pantene Pro-V Nature Fusion Moisture Balance Shampoo and Conditioner.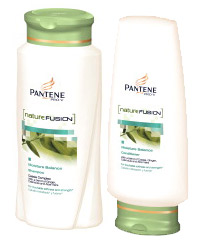 Umm..what? Not $4 million hair products made for her by her hair stylist?? Well, well..maybe my jaded ways must change. Padma said "I can tell you that it really works. Both of the Nature Fusion collections are very conditioning. They really made my hair shiny. They help make the whole hair shaft more luxurious." We will keep our minds out of the gutter on the last sentence in that quote..and focus and the fact that she uses shampoo I can actually buy. So I did. And, perhaps it's my warped view of the product due to Padma's influence, but I really like it. My hair is much shinier, it smells delish and feels much softer to the touch. And I like that it leaves my hair feeling moisturized but it isn't heavy at all, it's not the creamy shampoo you think of when you think of Pantene but still gives the great results of Pantene products. You can find a Pantene seller on the Pantene Pro-V Website. So, I will now consider this Step One to becoming as hot as Padma, I've got a long way to go, but now I'm at least on my way.
PS..a little advice, if you have never seen Top Chef or Top Chef Masters(on Bravo @ 10/9c), get on it..fabulous entertainment.
Disclosure: All products were provided for review. No monetary compensation was received for this review. All opinions belong to the author.