A well-known factoid about yours truly is that I work pretty tightly with tresses. Hair happens to be one of my areas of expertise (the others being, in no particular order: Saved By The Bell, Bloody Marys, the Electric Slide, and Michael Jackson in general). That being said, it's no coincidence that HairStyled.com has found its place in my daily rotation of websites.
What is HairStyled? A social networking site where the cosmetology challenged and beauty buffs meet under one technological roof to seek and give advice. The site is in beta, but one visit will assure you that it's constantly growing fatter with user generated content (the best kind).
Let's talk about the features. First: Rate This Hairstyle. Ever get a really, really terrible haircut, but everyone you know gives you back-ass compliments that aren't really compliments to make you feel better? Like, "ZOMG! You look just like Paris Hilton when she takes out her extensions!"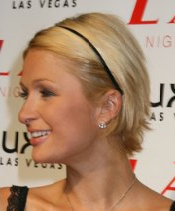 With compliments like that, who needs insults? Now you can upload pictures of your haircut-from-hell and perfect strangers can tell you the truth you need to hear: find a new stylist. You can also flip through other user pics to find a cut that might suit you better the next time around.
Next up: Try On Hairstyles. I think this is The Luxury Spot's favorite feature. Upload a photo and get your hair did– free of charge, and without the permanent damage. This is a good way to figure out if you should go blond:
I shouldn't. Should I channel Peggy Bundy post Married With Children?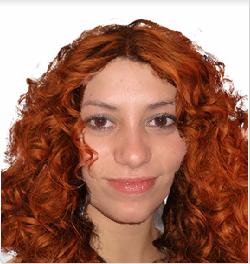 I definitely shouldn't. But "trying on" different colors, cuts, and textures helps a prospective cut-client narrow down the options before going under the scissors (and nowadays; the options are infinite, believe me).
The next section: Ask & Answer, is a forum where you can talk amongst yourselves about styles, keeping hair healthy, and comb through for tips and tricks from users and experts alike. You can post photos and ask for the opinion of other users, or discuss current trends (Agyness Deyn seems to be pretty popular).
The HairStyled blog covers an array of topics; from caring for long hair to the multiple uses of a flat iron (there are many, and they're all good to know). Articles are written based on user questions and input, so don't be shy about asking how to avoid looking like a poodle when the summer hits.
Lastly: The Gallery. The gallery is divided into a couple of categories: wedding hairstyles, celebrity hairstyles, and my favorite, EMO hairstyles! I guess that section is for when your boyfriend breaks up with you and you're too emotionally drained to write poetry.
All in all, there's a place for everyone at HairStyled.com: the noobs, the experts, the prom queen, the bride-to-be, and the sad emo kid. Go upload your boyfriend's pic and prove to him that no one likes his stupid haircut.