If your prom experience was anything like mine, you might have ended up with 5 empty mini Malibu bottles, 4 strangers helping you off the sidewalk, 3 mini quiche stains on your dress, 2 missing shoes, 1 lost pair of underwear, and 0 dignity. However, I feel confident that teens have the power to avoid blacking out before midnight (or maybe just make it seem more socially acceptable) by turning their prom into something productive. Project Green Prom is a new video contest founded in collaboration with Whole Foods and Teens Turning Green that asks teens to submit a short video describing how they would "green their prom."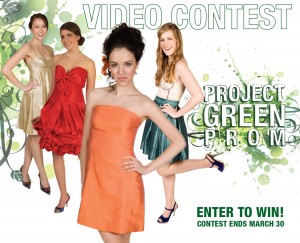 There are many ways one could go about making their prom eco-friendly, including buying a dress made from sustainable fabric, using makeup made with organic and renewable resources, creating a zero-waste initiative at the prom, providing organic food and drinks, and using eco-friendly decor.
The judges include the beauty editor at Teen Vogue Eva Chen, the sustainable designer Bahar Shahpar, actresses KayCee Stroh and Shailene Woodley, and other prominent enviromental activists and founders of eco-friendly companies. There are prizes for runners up, but the grand prize includes round trip airline tickets to New York, a one night hotel stay, a one-of-a-kind eco prom dress designed by Bahar Shahpar, eco prom shoes by Olsenhaus: Pure Vegan, custom natural skincare consult and year's worth of personalized regime courtesy of Burt's Bees, an eco teen lounge for winning school's prom courtesy of PBteen, prom refreshments provided by Whole Foods Market, and much more.
Submitting the video is really easy, and they encourage participants to be as creative as possible. Even if you're not interested in the contest, it'd be a great idea to talk to you prom-planning committee about greening your prom anyway. If you think about how many proms are held a year, greening even a small percentage of them would make a difference. For more information on the contest and to submit a video, please visit www.teensturninggreen.org.