Awhile back, my friend described our first year out of college as "our freshman year of life". I thought it was funny then, until it dawned on me that the year would come with the windstorm of negativity I still associate with being eighteen. Regrettable hook-ups, a new standard of responsibility, and worst of all– The Freshman Fifteen.
Being that I'm allergic to the gym, dieting, and pretty much any activity requiring will power, I found myself in a bind. Do I grow up, take responsibility for my actions, and get back into shape? Do I treat my body as a low-fat, no carb temple? Hell no. Just like freshman year (and all subsequent years), I took the easy way out and found a bunch of low calorie tasty treats to replace all of the fatty tasty treats I've become accustomed to.
First, I needed a snack to replace the sour straws, rice krispie treats, kettle cooked chips, and popcorn that have become regulars on my nightstand (I like snacks. Don't judge). Luckily, Atkins offers several snacks that were chocolatey AND filling enough to make my tearful goodbye to transfat a little less traumatizing. Atkins Endulge bars are made to taste just like your favorite snacks, but with only two grams of net carbs. That means you can eat the entire box of their Caramel Nut Chew Bars and still be better off than eating one PayDay. Not that I suggest eating an entire box of something when you're trying to lose weight, but everyone's different.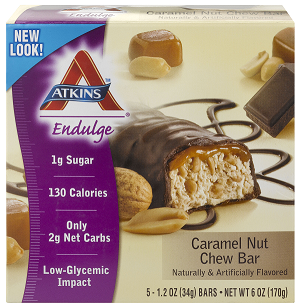 Normally, I eat pretty well. It's in the snacking and drinking department where I tend to slack. I'm not just talking about my affinity for a freshly brewed domestic lager, either. Root Beer has been my go-to soda for awhile now. In case you were wondering, no one on the quest to lose weight should have a go-to soda. And water, while I love it, tends to bore me.
So I got hooked up with Tree Top's new line of Trim beverages. Tree Top Trim juices are probably the most delicious juices I've ever tasted. Less of a diet drink, more of a nectar of the gods. I wanted to pour some out for my homies. I wanted to brush my teeth with it. I wanted to buy out the liquor store and take the day off to experiment. Each delicious flavor (Pomegranate Blackberry, Kiwi Strawberry, and Mango Peach) is full of Fiber, L-Carnitine, and Chormium; each of which are proponents of healthy, natural weight loss.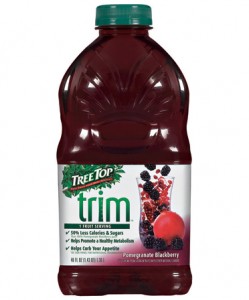 After spending some time with Atkins and Tree Top, I'd have to give both products two thumbs up. Though Endulge products don't taste exactly like you're scarfing down Reese's Peanut Butter Cups, you're able to munch guilt-free without feeling like a bloated cow afterward. Give a little to get a little. 
And I can't say enough good things about Tree Top. This is coming from someone who subjected themselves to the barftastic diet drink that is SlimFast in the name of weight loss– PLEASE spare yourselves and trim yourself with Tree Top instead. As for me, I've found a new vodka mixer and lifelong friend.