San Antonio Spurs player Danny Green is apologizing for the selfie he took at the Holocaust Memorial in Berlin.
Danny Green, I don't really know you so I'm not going to judge, but… really? I'm betting you visited dozens of cute restaurants, cafes, and boutiques on your trip to Berlin– any of which might've even been great for the ever-necessary-celeb selfie, but a part of you was like "yup, memorializing millions of forced deaths… I should totally selfie." Because what's more emotionally responsible than sharing a Holocaust selfie?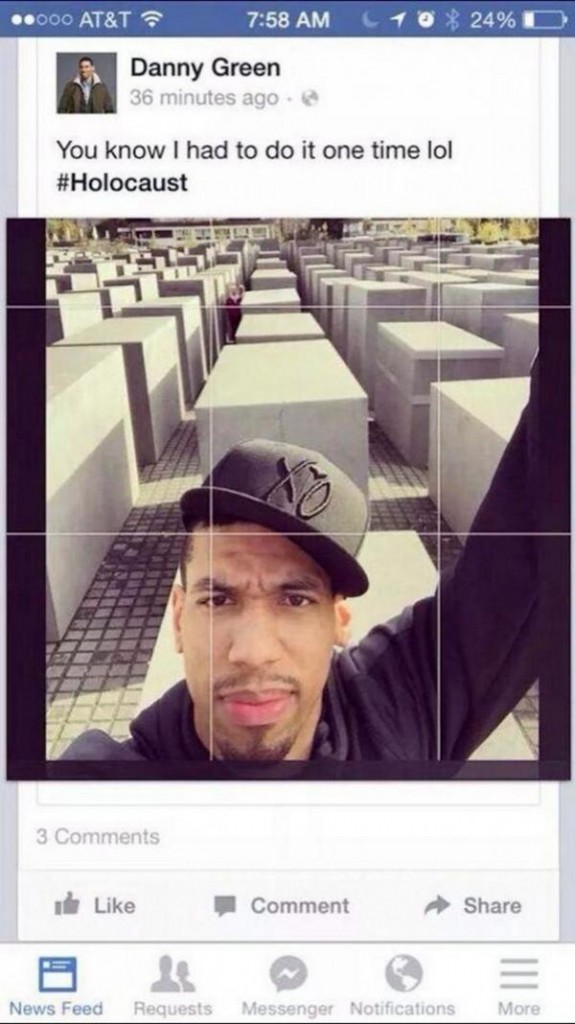 The photo caption read "You know I had to do it one time lol #Holocaust" for your millions of adoring fans.
Thoughts? Chime in below!
He later apologized on twitter:
I want to sincerely apologize for the insensitivity of my post!

— Danny Green (@DGreen_14) October 8, 2014
I have great respect n understanding for this country's history n wanted to continue chronicling my experience in Berlin

— Danny Green (@DGreen_14) October 8, 2014