A reader recently commented on one of our social posts, "I used to be so hot. I loved my style, my makeup, and my general energy… but then I had a kid, followed by another kid. My body changed in weird ways and the transitions between babies, low energy, and changing trends left me just about treading fashion water. Are there any hot mom tricks I can use so I can feel pretty again?"
Frankly, anyone with a child or children has been down this road. Maybe it's because our bodies change, we age, we don't have the same time or energy to devote to reading up on the chicest shoes or the funds to be shopping vs saving for college. I'm pretty blessed to count some gorgeous gals amongst my friends, all brimming with hot mom tricks to keep the cool after taking on the responsibility (and joy) of raising new humans.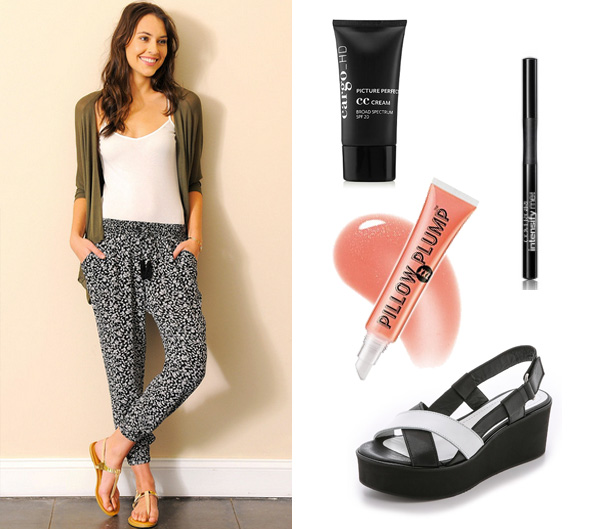 1. Always use a CC cream. There's limited time to throw a full face of makeup on every morning when you have kids to feed, pamper, and raise. CC cream, if you haven't already tried it, stands for 'color correction' and it's loaded with moisture, sun protection, and just enough pigment to hide minor flaws and signs of aging like darkened spots. "CC creams are the easiest way for a woman to still get all the coverage she needs without sacrificing time or money. With one simple dab, today's makeup lover can hydrate, correct, conceal and protect her skin against the sun's harmful rays — all conveniently packed in one tube. Take this multi-tasking product with you while you are on the go for quick touchups and say goodbye to overcrowded vanity trays forever," says Vera Sweeney, head honcho at LadyAndTheBlog.com.
Try Cargo Cosmetics CC — it's a lightweight formula that starts out white and actually blends to match your own skin pigment. Available here.
2. Don't be afraid of prints. Maybe your body bounced right back, maybe it didn't. Either way, as our bodies age things just tend to hang differently, meaning we need to be a little more clever about the way we wear clothes to give the same put together look. A lot of moms resort to wardrobes full of solid tees and bottoms, but did you know that prints actually provide a mild eye distraction? Meaning there's less focus on lumps and bumps, and others will spend more time focusing on your great smile, attitude, and overall cute ensemble.
Try a chic printed pant like the one pictured above from South Moon Under. Available here.
3. Your lips are a sign of youth, fertility, and overall beauty. "Lips are one of the most important features to play up because the good news is you can shave years off your facial age with the right gloss, liner and plumper and have all eyes focused on your pout as opposed to the bags under your eyes, " says Melissa Chapman of marriedmysugardaddy.com.
Go for an easy to use, over the counter tinted plumper like Sexy Mother Pucker by Soap & Glory, available here.
Or, for a longer lasting plumped lip solution, Restylane Silk is available through doctors, and you can check out a firsthand experience with it here.
4. Remember that color is happy and youthful. Color = happiness and vitality, and there's no reason to shut either of those out. Add a dash to your lips for a temporary, bright fix. "Lips are the seal of a welcoming smile. I can't stress enough how a long lasting colorful lipstick can give entire look a lift," says Esti of primetimeparenting.com.
5. Get serious about your eyeliner game. Switch from the crayon style of yesteryear that you were used to before the brood– CoverGirl has a serious new eyeliner in a pen style with a perfectly angled tip to create either the thinnest graphic line or a bold, tapered edge. What used to take 10 minutes now takes 2, and doesn't smudge. Perfect for moms on the go, and easy enough for even the most novice-level makeup lovers. Intensify Me Liner, available here.
6. Update your wedge game. Those sloped wedges of the early 2000's are officially done, so don't wear them unless you want to look old and frumpy. Switch to more modern platform style sandals. "Your feet are your foundation — literally! As a mom of 5, and someone who lives for fashion, I've ALWAYS had to find uber-comfortable shoes, but I've ALWAYS wanted them to be uber-fashionable, too. I'm constantly on the go and always somewhere for someone – as much as I'd love to be in stilettos all day, I know it's just not practical at all for my feet. I always look for wedges because they have great support and are super comfy, but can be ultra fashionable (not to mention available in a bunch of different styles)," says Audrey McClelland of MomGenerations.com.
Wedge sandals by Won Hundred, available here.
7.  Jewelry takes 2 seconds, and perks up any outfit. "Even on a jeans and t-shirt kind of day, throwing on a single statement necklace is an easy no fuss way to transform your look and take your style to the next level," says Corine Ingrassia of ComplicatedMama.com. For whatever reason, many new moms forget the added touch of statement jewelry after little ones are born– it's an easy detail that goes a long way for creating a polished look.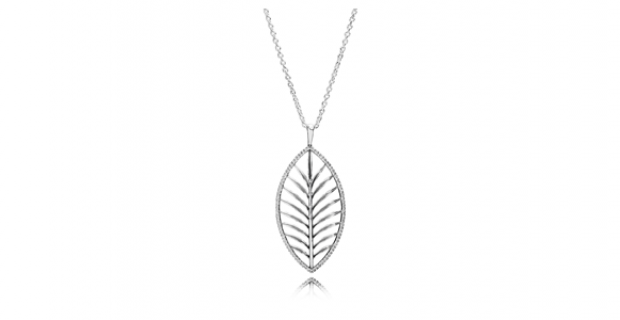 Try an easy to wear or layer necklace like this Tropical Palm Leaf by Pandora, just as chic with a tee as it is with a LBD on date night. Available here.
8. Corseting. While Kim K. and other celebs may tell you corseting is necessary several hours a day, the truth is that even 20-30 minutes a day of wearing a waist-trainer can help pop things back into their original position. The act of pregnancy causes muscles to relax and some just "forget" to go back to their original position– creating the illusion of a lost waist. Popping a properly fitted corset on for about half an hour a day while catching up on emails, watching TV, or going for a walk with a little one in the stroller is an easy way to gradually bring back the natural curvature of a pre-baby body.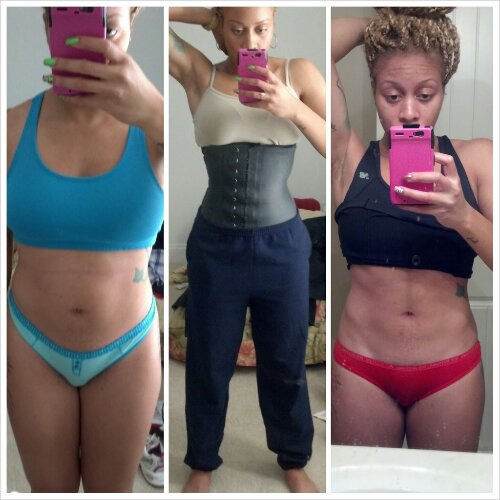 [
image
]