How to clean gold rings and other golden jewelry (a guide for everyone)
Taking care of your jewelry is just one of those boring things that needs to be done. And it probably needs to be done more often than you actually do it, by the way (you should be washing your rings as often as you wash your sheets, by the way). Ideally you' take your rings (that you wear on a daily basis) to get a tune up from a jeweler once a year. They can clean your ring easily when they're done checking prongs and platings and so on. But you too can learn how to clean gold rings easily, let's say once a week or even month. That way when you take your rings for their yearly checkup they're not all gunked-up with old lotion and whatever else your hands have gotten into.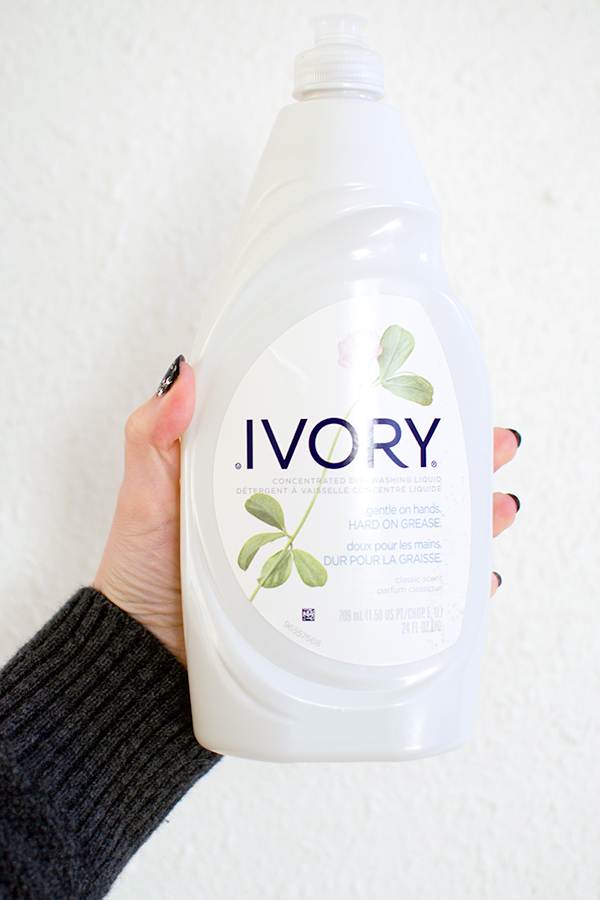 There is one tried and true way of how to clean gold rings at home. Soap and water baby! It can clean your dishes, and your golden rings. But the key to cleaning your rings at home is being incredibly gentle so you don't scratch or otherwise negatively impact your ring.
READ MORE: Tiny Engagement Rings You'll Love
This is for white and yellow gold, FYI. Not all precious/semi-precious metals should be cleaned this way. Also, it's best to skip if your ring has a softer stone or pearl.
In this case we're working with white gold and a diamond so soap and water is A-okay.
If you own a ring with healing gemstones, you need to be sure you are caring for them properly in order to retain their healing energy. So, If you know what are gemstones used for, you will also know that for centuries they have been used for spiritual and physical healing. And, certain gemstones are sensitive to water and you need to be mindful when you're cleaning rings with healing gemstones. Doing research and gaining an understanding of which gemstones can go into the water, and what can't help you preserve their vibrations for a longer period of time. Being knowledgeable about the care of your healing gemstone rings makes sure that you get the most out of your crystal's healing benefits."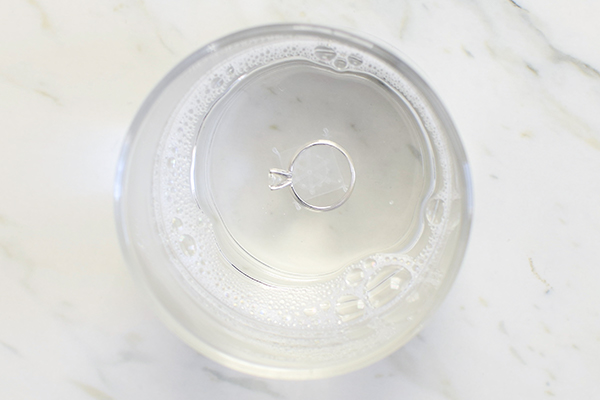 How to clean gold rings at home:
Fill a small bowl or cup with warm but not hot water. You can go for tap water or filtered water if you're fancy and/or worried about mineral build up.
Squeeze in a drop or two of plain old dish soap like Ivory or Dawn. Opt for gentle dish soap if you have it and do not use the powdered kind which can be abrasive.
Stir around the water so the soap dissolves.
Plop your ring into the water and let it soak for 15 to 30 minutes.
Remove your ring from the water, rinse and dry.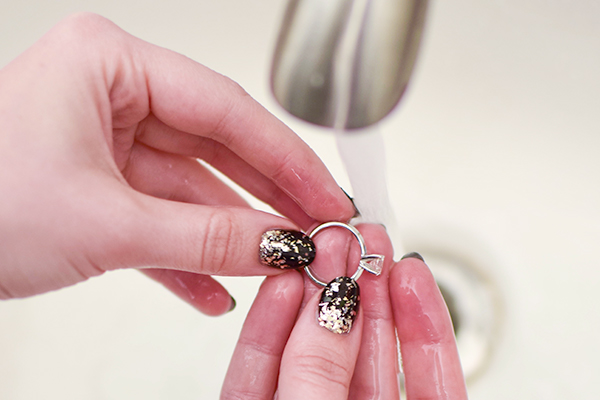 If your ring is pretty gross and you haven't cleaned it in a long time you can do a gentle scrub with a soft bristle toothbrush. That's more ideal for yellow gold. If you have white gold there is likely a rhodium plating that you don't want to accidentally scratch off. So, for white gold ring-havers it's best to skip the toothbrush scrub.
When you're rinsing make sure you're not going to drop your ring down the sink, so plug it up or use a mesh drain catch. You'll want to make sure the whole ring is rinsed well so you don't have any soap residue.
Once you're fully rinsed give your ring a little rub down with a soft cloth. This is an old tee shirt and it works well for this purpose. Avoid using anything remotely scratchy on your skin (like paper towels) because it will definitely get scratchy on your ring. A little rub can remove any remaining dirt (especially for white gold rings that skipped the toothbrush treatment).
Leave your ring on your soft cloth of choice to totally dry for a good fifteen minutes. Pop that bling back on and you've got a fresh and shiny sparkler. Golden jewelry > golden facial kits, any day of the week, #amirite?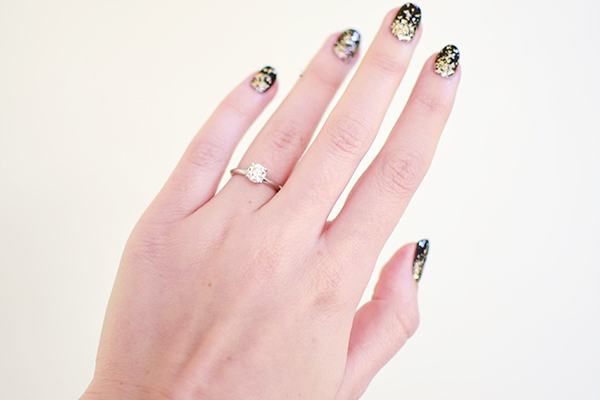 Love this article? For more beauty, style, travel, and trending topics check out The Luxury Spot on Facebook. Like us and we'll love you back!