When you have the perfect engagement ring on your finger, you might feel like all the weight of the world has been lifted off your shoulders. Congrats! You can check off that item on your to-do list! However, the journey doesn't end here. There's always a way to take things to the next level, and now you can do that by picking a wedding band that complements your engagement ring.
There are some halo engagement rings that come with matching wedding bands and are offered by reputable jewelry brands but this isn't always the case. It's not always easy to find a band that matches the right look of your ring, especially if it features a unique center stone cut or a bold metal. If you're going to wear the two rings together, you might as well make them look like you and your partner: a match made in heaven.
Having said that, there are many options to choose from and a lot to consider. One of the most important things is to make sure your engagement ring is still the star of the show. A wedding band shouldn't overpower the engagement ring.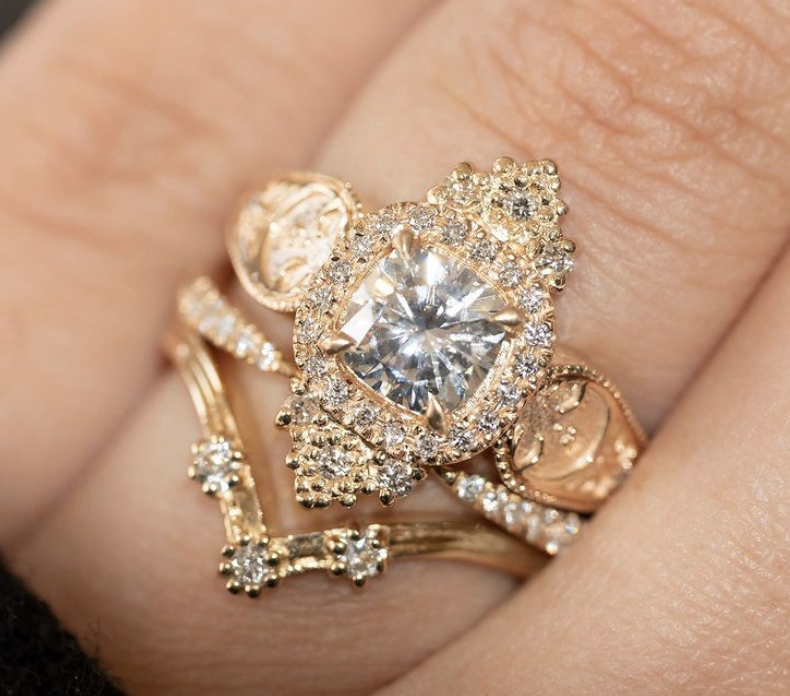 There are 2 types of Halo Engagement Rings
Suspended
This type of engagement ring has no metal directly below it and is supported on either side. The center diamond is raised off of the finger, and the sides of the ring are straight. Halo engagement rings are designed to allow straight wedding bands to slide underneath the center diamond.
Although it has a beautiful design, especially from the top view and when you have a considerable center diamond, the design limits the style of the engagement ring. A simple design can be added to the sides in this case.
Brides prefer this design as they appreciate the flexibility of wearing their wedding band without their engagement ring. This is usually done for traveling or when wearing gloves. For the most part, however, most women almost never wear the wedding band independently! In some cases where you don't feel safe while traveling, you can consider buying an inexpensive traveling ring.
Supported
This type of engagement ring has metal and multiple supports under it. The center diamond might not be high but there is metal, diamonds or even engraving under the halo there. If you try to put a straight wedding band against the ring, it will rock from side to side.
With this design, you have endless possibilities. If you're looking for a ring that is more creative and unique, you should consider this design.
If you have a straight wedding band, it might not fit snuggly against the engagement ring. You might like the look of a straight band and the space it creates against the halo. It's up to you! But you should know that the rings will wear each other out. But that shouldn't be a problem as you can rebuild the worn areas or even have the rings soldered together. Remember, platinum rings last infinitely longer than white gold if rubbed together.
What Kind of Wedding Band Goes With a Halo Ring?
There are 4 types of wedding bands that pair well with halo rings and they are guarded, contoured, straight, and notched wedding bands. Depending on your halo ring, choose the type of band that matches your style and works best for you.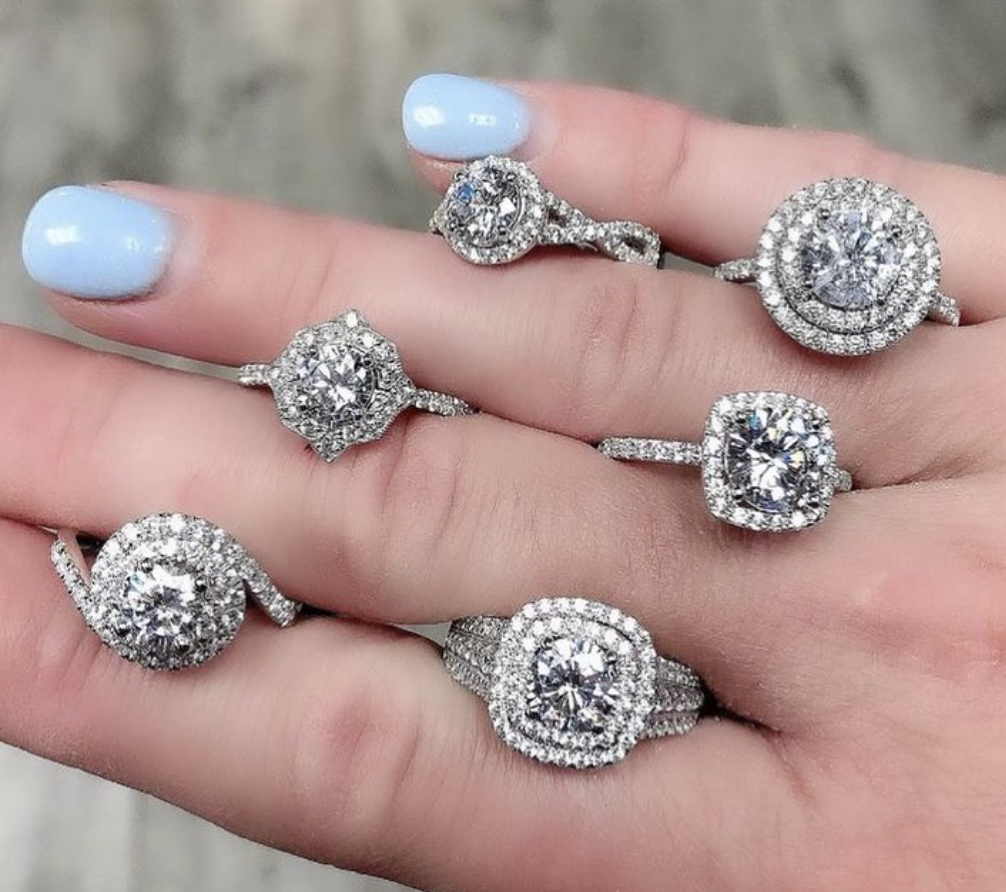 Guarded Wedding Bands
This type of wedding band might be one piece but it features two bands; one that fits above the halo and one below. Usually, guarded bands are made custom for engagement rings but this is not all the time. With a guarded wedding band and engagement ring, you'll be wearing three rows of metal or pavé diamonds.
Contoured Wedding Bands
Also called curved wedding bands, contoured wedding bands mirror the curve of your engagement ring and halo. These wedding bands can help the two rings rest flush, making them snug and parallel when worn together. A contoured wedding band is a perfect match if your halo is reinforced by metal on more than two sides, as this allows the band to wrap around the halo. Straight wedding bands don't sit flush with a halo that includes metal supports on more than two sides. This is because the supports stop the straight wedding band from resting closely beside the engagement ring.
Straight Wedding Bands
As you can imagine, straight wedding bands do not have curves or notches. Straight wedding bands work perfectly well if the halo is suspended with two metal supports. As the halo and center diamond are raised off the finger on two supports, the straight wedding band can slide underneath, being flush with the engagement ring. Prior to buying a straight wedding band, you should test to see if this type will slide underneath the halo and sit snuggly against the engagement ring.
Notched Wedding Bands
As the name goes, notched wedding bands have a notch for the halo to rest in. The remainder of the band is straight. Notched wedding bands have a small nook that looks like a half-circle for the halo to rest in. If you paid the right halo with a good noticed wedding band, the two rings will fit together like a puzzle. These notched wedding bands are perfect for halos that have multiple metal supports because the notch fits around them, allowing the rings to sit flush.
Many women prefer one or two wedding bands; one that fits as snug as a bug in a rug and one that is similar in diamond size, setting style and shape. Depending on your halo engagement ring and personal style, you should research and review a few options to figure out which is the best wedding band for your engagement ring. You can also check with your engagement ring vendor to see if they have matching wedding bands or visit an online store instead. 
This post was sponsored, but matches with our editorial ethics and guidelines.