One blustery winter afternoon, Bryce and I, armed with some gift cards, warm coffee , and comfy shoppin' shoes, took a trek to Daffy's to get down & dirty with what's hot in discount duds.  Needless to say, if you know of my penchant for daily shopping excursions that result in, what the kids call, a 'spree',  it was all sorts of wild. We headed in with an extreme fear for elbowing shoppers, frantic seasonal workers, haphazardly organized racks and shower curtains strewn all over the shoe section.  Oh, how we were pleasantly mistaken.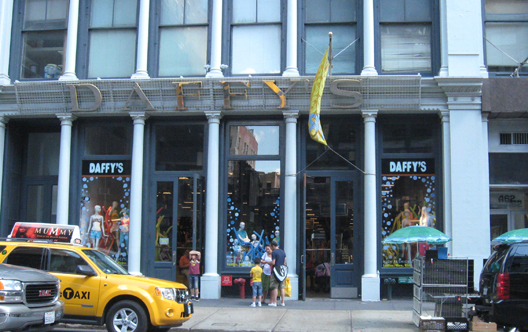 image via racked.com
Upon entering, fuzzy luxe sweaters & leather clad lady gloves were delicately displayed near holiday specific housewares, while sounds of Madonna [NOT Bing Crosby], flowed through the air.  After Bryce and I had a mini dance  party by the men's Ralph Lauren coats, I realized that this place was a well-oiled retail machine, more designed to comfort my shopping anxiety than create them.  Bryce felt the magnetic force of said fuzzy luxe sweaters & lady gloves, and I, being a giver and all, began to peruse through the men's section to find gifts for the brothers, father & other bro-hams in my life. I usually enjoy shopping for dudes, but once Bryce alerted me of the bag selection, it was all over. I ultimately ended up with no man clothing and 2 luxe bags and a new laptop case for myself, each under $30!  I couldn't help myself.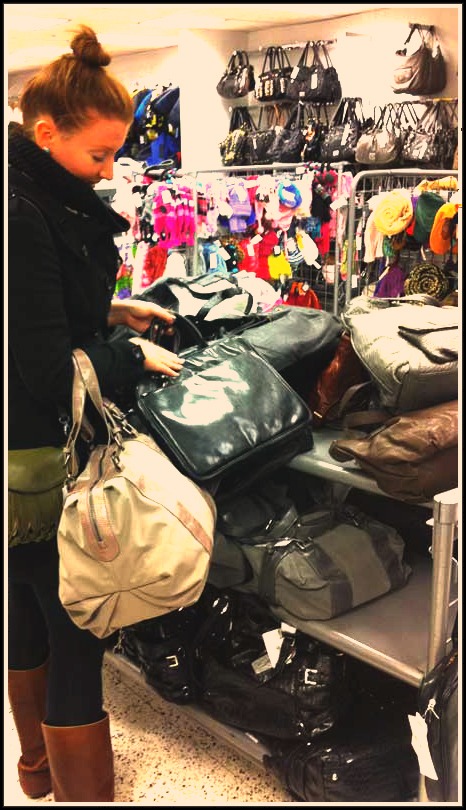 But, back to the giving.  I did walk out with tons of gifts for the ones I love. I won't share the pics, because that would totally ruin the fun, under the Christmas tree, element of surprise.  I WILL say, however, that a certain brother of mine with have a certain new house of his smelling like HEAVEN from certain waxy pillar-like, cinnamon stick adorned, gold leafed items I picked up (each at least 9in x 6in, each for under $4, each BEAUTIFUL). I'm sure his girlfriend will appreciate it, and I'll be stopping back to Daffy's to pick up a cashmere man sweater or two – all priced under $80! – as to not undermine his manhood.
All in all, Daffy's has allowed my shopping addiction to deem itself much less if a life issue when my huge shopping bag, filled with treats, cost me MUCH less than retail.  Scarves for under $10 — leather gloves for $20 (Bryce stocked up like WHOA – she'll report with her findings), and home-goods that are perfect for every hostess – it's a one-stop, discount shop that you'll actually ENJOY shopping in, during the holidays.
Daffy's Locations << you'll need this.
*gift cards via Daffy's were provided to aid our shopping excursion. I would have purchased MAD bags, regardless.